The Notes from the Trail series continues. Look for all the candidates at one parade or another this weekend. It will be hot from Fairbanks to Ketchikan, and those who forget their sunscreen will have to face the music in the mirror later.
The fundraisers are going strong in July, and there are plenty more where those came from. Above, a photo of Nick Begich, running for Congress, with Carlos Gomez, father of Scotty Gomez, at Bell's Nursery, where Nick was having a fundraiser on Wednesday.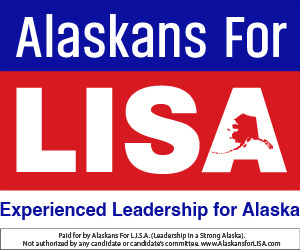 Peltola coming on strong: New events coming up next week include a fundraising party for Democrat Mary Peltola for Congress, which features many Democrats who previously supported Chris Constant, the Anchorage Assemblyman who received just 3.86% of the vote during the special primary election. Now, the Democrats have all moved to Camp Peltola.
The obvious in-your-face irony of the fundraiser is the address — it's being held at Mark Begich-Deborah Bonito's house. Mark is the uncle of Republican Nick Begich, who is running against Peltola and Sarah Palin for the congressional seat.
Even more curious is that on the list of co-hosts is Alice Rogoff, the former owner of the Anchorage Daily News, aka Alaska Dispatch. She is the publisher who all-but installed Bill Walker as governor in 2014.
Rogoff is still a registered voter in Alaska, although she did not vote in the state after 2020, and has sold her North Pointe Circle mansion in Anchorage.
Also on the list of co-hosts is former Gov. Tony and Susan Knowles, and Veronica Slajer, wife of DC lobbyist Jack Ferguson, who first supported Josh Revak for Congress. This is most certainly a high-roller event:
Andrew Gray: Speaking of Democrats, Andrew Timothy Gray, running for Alaska House of Representatives, recorded himself at his recent fundraiser and set it to music in this oddly entertaining campaign ad, in which we can see Anchorage School Board member Kelly Lessens listening intently to his dramatic presentation:
In addition to Gray in the race for House Seat 20 (under new numbering system), Republicans Jordan Harary and Paul Bauer are on the ballot. Gray has the support of the Alaska Democratic Party.
Jamie Allard: The same night as the Mary Peltola fundraiser, Alaska's Jamie Allard has a fundraiser for her campaign for House District 23, happening at Chepo's in Eagle River:
On July 6, Nick Begich for Congress will be in Kenai for a fundraiser at Paradiso's Pizza.
The polling analyst Nate Silver, who runs the FiveThirtyEight.com website, is projecting winners for all the House and Senate seats. For Alaska, he predicts that Nick Begich will win, as he wins in 70% of the simulations that the company ran using ranked choice voting. Mary Peltola gets 13% of the simulations, and Sarah Palin wins 10% of the simulations.
Silvers is also predicting that U.S. Sen. Lisa Murkowski has a smooth path to victory. In 100 simulations, she wins, 85 times, with Kelly Tshibaka winning 11 times and Edgar Blatchford winning 5 times. No sign of Democrat Pat Chesbro.
Bill Walker brings in Obama team: Bill Walkers' campaign for governor launched an ad this weekend on the theme of "Mike Dunleavy has driven Alaska into the ditch." Walker-Drygas' new ad firm is GMMB, the huge national firm that did President Barack Obama's campaign. And Joe Biden's. And Kamala Harris'. And Bill Clinton's. And Gretchen Whitmer for Governor of Michigan. And Charlie Crist for Congress, Florida. You get the drift.