Our coverage of bits and pieces from the campaigns continues. If you love this coverage, consider keeping Must Read Alaska going with a donation. Thank you!
135,712 votes are in (only 108,981 are counted) in the special primary for the congressional seat that is vacant. That means 80% of received ballots are counted, but more are still coming in and to be counted and announced Wednesday.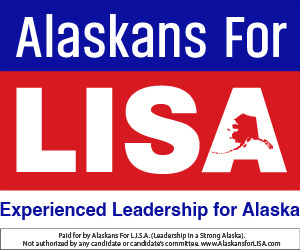 Festivals and appearances: Nick Begich, a leading candidate for Congress, was a the Kenai River Festival on Sunday, and then at a fundraiser for Tuckerman Babcock for Senate in Soldotna, talking to hundreds of Alaskans on the Kenai all day Sunday after a rocking Saturday in Palmer at Colony Days Parade. He was also on the Dan Fagan, Duane Bannock Show, and Mike Porcaro Show on Monday.
Sarah Palin, the top vote-getter for Congress in the primary, showed up at the School of Government on Monday night; the conservative social group in Palmer is organized and hosted by Mat-Su Mayor Edna DeVries, and Palin's first appearance there was not to give a speech, but just to do a Q and A. Video on Must Read Alaska here.
When asked about why she endorsed Bill Walker and Democrat Byron Mallott for governor and lieutenant governor in 2014, (Minute 22:30) Palin said a lot of people wanted him to be governor and voted for him, and she didn't know he was going to turn out the way he turned out. Walker is pro-abortion.
Palin also defended signing the economically destructive ACES oil tax legislation that killed oil production in Alaska for years after she left office.
At Minute 30, she claimed President Obama's righthand man said he voted in Alaska and yet he doesn't live here.
At Minute 32, she answered the accusation that she was a big spender.
Rejection slips: Rejected ballots from the special primary election are coming in significantly higher from areas where people had also, just two years prior, voted in favor of Ballot Measure 2, which brought Alaska the nightmare elections scenario now playing out:
House District 38 (Bethel) 17.99% ballots rejected
House District 39 (Nome) 15.38% ballots rejected
House District 40 (Kotzebue + Utqiagvik) 12.33% ballots rejected
House District 37 (Bristol Bay + Aleutians) 12.19% ballots rejected
House District 19 (Anchorage – Mountain View) 9.33% ballots rejected
The district with the least percentage of rejected ballots?
Fairbanks-Goldstream House District 4, the university area of Fairbanks, with less than 1% rejected ballots. The state average in this election for rejected ballots is a new record at 3.56%.
Signatures verified? It's not that the signatures on the rejected ballots being tossed — the Division of Elections does not even verify signatures. Seriously. You can write in Mickey Mouse. So it's something else:
Endorsements: John Sturgeon, outdoorsman and hunter who took his case to the U.S. Supreme Court and won — twice — endorsed Nick Begich for Congress. Patti and Art Mathias endorsed Sarah Palin for Congress.
Alaska voters chose Republicans: More than 60% of the vote for the Special Primary Election went to Republican candidates, with Democrat candidates getting less than 15% support, according to the nearly 109,000 votes that have been tabulated. The chart:
Kelly Tshibaka in Fairbanks: U.S. Senate candidate Kelly Tshibaka, a Republican, was in the Golden Heart City for the military appreciation ball, where Lisa was one of the speakers, along with General "Mad Dog" Mattis.