(3-minute read) OBJECTED TO NON-NATIVES ON THEIR LAND
Alaska Natives from Defending the Sacred AK and loosely associated groups took over a pubic meeting in Fairbanks, shouted at the federal officials, chanted, waved banners, and generally disrupted proceedings held for the purpose of gathering public input on developing oil and gas resources on the Coastal Plain of the Arctic National Wildlife Refuge.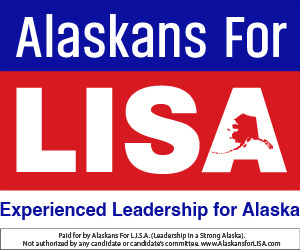 Joe Balash, Assistant Secretary of the Interior and a former Fairbanksian, stood stoically, while Samuel Johns, a Gwich'in man, confronted him loudly, as seen in the Defending the Sacred photo above:
"It's very disrespectful to just bring in a bunch of non-Natives into a community to tell us how you gonna handle our land — do you understand that? Yeah, bringing experts into people that have been living for thousands of years, and I'm just saying, change the ratio as to who's in charge! Look at the people here who are working right now. How many of them are Alaska Native. How many of them are Alaska Native right now, can you tell me?"
Defend the Sacred AK called the meeting a "sham" that gave them no opportunity to voice their opinion. They demanded that the federal officials make time for the Native elders to give their testimony and they shouted, "Bring out the stenographer!" to take down their words.
The theme of the group of about 200 was that non-Natives and corporations have no business opening the lands, even though they have long been set aside by the federal government for such resource use.
The draft environmental impact statement for oil and gas exploration on the Coast Plain was issued Dec. 20. Now, the BLM is hosting a series of informational meetings across the state, but not in the fashion of hearings. They are set up to be more of conversations and dialogues, but the one in Fairbanks ended up being taken over by mob rule.
At the end of the evening, when officials were ready to close up the meeting at the Carlson Center, the Native protesters took over and started dancing, drumming, and singing.
After the partial government shutdown, the schedule for the hearings has been altered. The original comment period was to end Feb. 11.
"We received requests from Alaska communities and tribes as well as non-profit organizations from across the nation asking for additional time and meeting locations,"  Balash said in a statement last month. "After considering these requests, we have decided to extend the comment period to March 13."
[Information on the planning process can be found at this link]
The next public meetings will be held in Kaktovik on Feb. 5; Utqiagvik's Heritage Center on Feb. 6; Fort Yukon on Feb. 7; Arctic Village on Feb. 9; Venetie on Feb. 10; Anchorage's Dena'ina Civic and Convention Center on Feb. 11; and Washington, D.C on Feb. 13.