BALLOT THAT APPEARED FRIDAY WAS FOR THE DEMOCRAT
A mystery ballot that showed up long after all other ballots were counted, including six that were counted without observers present, is also going to be counted, according to sources familiar with the Division of Elections. That ballot tips the win.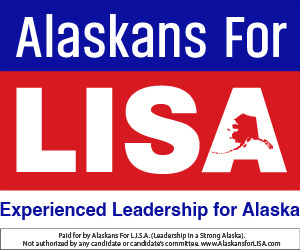 That ballot was cast for Kathryn Dodge, the Democrat vying for the seat that was vacated by Sen.-elect Scott Kawasaki in Fairbanks.
Sources tell Must Read Alaska that the ballot came from Precinct 6 in District 1. For whatever reason, it was not read on Election night. It didn't show up until several days later. The Division has issued no explanation yet.
Last Wednesday, the Election Review Board found six more votes, and in one day, the five-vote lead that Bart LeBon had was shrunk to a tie.
[Read: Absentees counted but race still tied]
The mystery ballot showed up on Friday, and over the weekend Election officials decided it would count.
They knew that when they made that decision they were adding a vote to Democrat Kathryn Dodge, because they saw the ballot.
The chain of custody of that ballot is what concerns Bart LeBon, the Republican in the race. "Standard procedure for election workers to place it in a secrecy sleeve for processing. Was it forgotten? Does the chain of custody pass the red-face test?"
LeBon first found out about the ballot late Friday. He was not in Juneau, but his opponent Dodge was, and was overseeing the process along with Democrat Sen.-elect Jesse Kiehl of Juneau.
"We were tied. My understand is we were heading for recount and coin toss. Then this ballot materialized. The explanation is that it was set aside in a location at the polling place in Precinct number 6. So what journey did that ballot follow to get to the Division of Elections in Juneau? Who handled it? It's the integrity of that ballot that concerns me," LeBon said.
The Division had on Friday described the ballot as "loose with questioned ballot materials that had been placed in the emergency slot of the OS (optical scan) machine, but there was no questioned ballot envelope to account for the ballot."
On Monday, the Division of Elections will certify the election. At that point, the Division will declare Dodge the winner by one vote, 2,662-2661. On Friday, the Division will conduct a recount of that district.
This story will be updated.