Sen. Lisa Murkowski may have been happy to usher President Donald Trump out of office in 2021, but today she's also not happy today with his replacement, President Joe Biden.
Murkowski appeared with other lawmakers at a press event slamming the Biden Administration's policies of locking up energy in America, specifically in Alaska.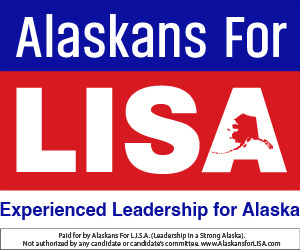 "I come from a state where we are an energy producer. But we pay some of the highest energy costs in the country, and right now our gas prices are the sixth highest in the country. Statewide, regular gas has increased by more than 52 percent over last year. As of yesterday, Alaska's statewide average was $5 a gallon. This is the highest ever average in our state," Murkowski said. "We're used to somewhat high prices but when it's on average, over $5 dollars in places like Anchorage and Fairbanks, think about what that means to our rural communities. Over 80 percent of our communities are not connected by road, so fuel comes in by barge and fuel comes in by air. At Fort Yukon, the Yukon River, gas is $7.25 a gallon. Up in Noatak, just above the Arctic Circle, it's a stunning $11 a gallon. And so think about what that means—it's not just what you're paying when you fill up your car, it's everything else that's associated with it."
Murkowski was the first Republican senator who called on President Donald Trump to resign immediately in January, 2021, over her perceptions about the Jan. 6, 2021 incident in the U.S. Capitol, when rioters came through the doors. She said if the Republican Party cannot separate itself from Trump, she wasn't sure she has future with the party.
"I want him to resign. I want him out. He has caused enough damage," Murkowski told reporters on Jan. 8, 2021. She has stayed with the Republican Party, however, even while the Republican Party has continued to remain inclusive to Trump, a president that Murkowski was diametrically opposed to during his four years in office.
Today, she's stuck with something worst: the Biden Administration's war on Alaska.
"Right now, we have an administration whose plan is to blame anybody but them and their policies. They are quick to put it all on Putin. Yes, there is a war. Yes, we recognize that, but this price increases started long before Putin crossed into Ukraine. This is not something where you can just blame big oil and go after price gouging. This is not something where you can attack others when it is failed policies that this administration has put in place. It really comes down to basic supply and demand and we know that supply matters and domestic supply matters. If we're not learning anything from Ukraine and Russia and what we're seeing in Eastern Europe, domestic supply matters," Murkowski said.
"So, the Biden administration needs to reverse its anti-supply actions, it needs to take its bad ideas off the table, it needs to restart approving crucial projects that deliver greater supply," she said.
Murkowski's remarks were made during a press conference that included Sens. John Barrasso, John Kennedy, Ted Cruz, Joni Ernst, Steve Daines, James Lankford, John Hoeven, Shelley Moore Capito, John Boozman, and Cindy Hyde-Smith.
"Lisa Murkowski's vote for Deb Haaland was not simply a one-time mistake, rather, it was a colossal error in judgment that is hammering Alaska over and over again. Murkowski admitted publicly that it was likely that Haaland would be harmful to Alaska as secretary, but she cast that vote anyway. Haaland's sustained assault on Alaska's resource industries proves that Murkowski showed gross disregard for the jobs of Alaska workers and our entire state economy," said Kelly Tshibaka, who is challenging Murkowski for Senate.
"Haaland and Biden have targeted Alaska like no other state. The Biden Administration has launched 24 executive actions directed against the people of Alaska, many of them coming from Haaland. The fact that Haaland even refuses to admit that gas prices are too high shows that this has been her plan all along. Lisa Murkowski knew all of this, just like anyone with a pulse knew it, yet she still cast the vote that continues to crush Alaska workers and families to this day. When I'm the next senator from Alaska, I will always vote for the best interests of Alaskans, and not for the Washington, D.C. insiders who write fat campaign checks."