Richard Peterson, Tlingit Haida Central Council president
JOHN STURGEON CASE IS KEY TO THEIR ARGUMENT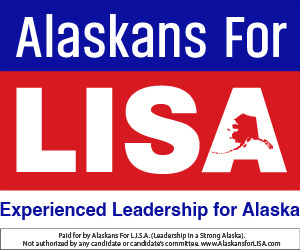 Native Alaskans are emerging as a pressure point on Sen. Lisa Murkowski, who may hold one of the key votes for the confirmation  of Judge Brett Kavanaugh to the U.S. Supreme Court.
Native activists have been seen filing into her Washington D.C. office the past two weeks. They told Huffington Post that climate change has already damaged the lives of Natives in Alaska and they're concerned about Kavanaugh's environmental record.
Specifically, one Alaska Native group has raised concerns about a major case pending before the Supreme Court: Sturgeon vs. Frost (National Park Service).
The court will take up the case of the non-Native moose hunter on Nov. 5, and Natives say that ruling in favor of public access to federal land would devastate their subsistence fishing.
In 2007, John Sturgeon was on his annual hunt on the Nations River in the Yukon-Charley National Preserve and was using a hovercraft to navigate the seasonally shallow waters when Park Service officials stopped him.
The Park Service maintains it has authority over the waterways that run through national parks, while outdoor advocates and the State of Alaska maintain that navigable waters are regulated by the State. Waterways in Alaska are considered transportation corridors all year long — by boat in summer and by snow machine in winter. Without access to waterways, most of Alaska would be inaccessible.
[Read: John Sturgeon case heading back to Supreme Court]
Heather Kendall-Miller, a Native rights attorney, said that a ruling in favor of Sturgeon and the State of Alaska's rights, would be a "death knell" for Alaska Natives.
Kendall-Miller, who is with the Native Americans Rights Fund, also wrote that Kavanaugh would show no favor toward minority voters. In an op-ed in the Anchorage Daily News she wrote "American Indian and Alaska Native voters continue to encounter language barriers, enormous distances to polling places, purged voter rolls, and arbitrary changes in voter identification laws. Judge Kavanaugh's track record shows little regard for minority voters."
Alaska Natives were a key to Murkowski's re-election, when she ran a successful write-in campaign against Joe Miller. There is little evidence that they encountered problems voting when they helped Murkowski become the first U.S. senator in more than 50 years to win an election with a write-in campaign. In fact, with Alaska's absentee ballots, Permanent Fund automatic registration, and early voting locations, Alaska is a "no excuse" voting state.
Tlingit-Haida Central Council President Richard Peterson wrote to Murkowski and said that the 30,000 tribal members his organization represents would be endangered by Kavanaugh's confirmation, "because of his erroneous views on indigenous rights and tribal sovereignty.
"We are concerned moving his nomination forward due to his unsound views and the potential injury that his misperceptions would wreak upon your Native Alaskan constituents, our Native Hawaiian friends and fellow indigenous peoples. I write to you, asking you to vote no, and oppose Kavanaugh's nomination," Peterson's letter stated.
"We also write in support of Senator Tom Udall's request for Judge Kavanaugh records on any Native American matters during his tenure at the White House. We hope, no beyond that, we implore that the Committee on the Judiciary will make available the entire record, so that the Senate can make an informed decision," Peterson wrote.
Peterson said the Supreme Court has a disproportional impact on the lives of Native people and that his ruling on the Sturgeon case in support of states' rights would be detrimental to Alaska Natives.
He used the same themes as Kendall-Miller, writing that voting rights, Natives, women, and the environment are threatened by Kavanaugh. Also, he raised concerns about the voting rights of people of color in South Carolina.
At least one person called into question who Tlingit-Haida Central Council was truly representing by jumping in the fray on the Kavanaugh nomination.
"CCTHITA has not represented Southeast (Alaska) for a very long time. Anchorage, Seattle, Portland, San Francisco out-vote the original Central Council by a long shot. … Civil Rights were jump started in Alaska in 1945, why is the 'president' of CCTHITA whining about 'people of color' in South Carolina? Why is CCTHITA arguing for 'Obamacare' ? Don't understand. Are we as tribal members not covered under Indian Health Service? So I wonder, who is Richard actually 'representing'?" wrote Randy Katzenmeyer, responding to the Peterson letter on Facebook.
Sen. Dan Sullivan has already announced he will vote in favor of Kavanaugh's nomination, therefore the pressure to oppose the nominee has been focused nearly exclusively on Murkowski.