The MRAK Almanac is your place for political, cultural, and civic events, events where you'll meet political leaders or, if you are interested in getting to know your state, these are great places to meet conservative- and moderate-leaning Alaskans.
5/31: Facebook Live Town Hall with Governor Mike Dunleavy. Governor Dunleavy will answer questions directly from Alaskans about issues such as the budget, the PFD, and the legislative process. The Town Hall will go live at noon on Gov. Dunleavy's Facebook page, here.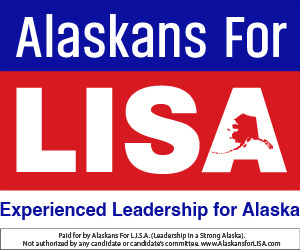 5/31: Pacific Island Festival in Anchorage. Great fun and food for the whole family, in celebration of pacific island cultural heritage. More info here.
5/31: 2019 Miss Alaska Pageant. Winner will represent Alaska at the national Miss America contest. Tickets are $20, see more here.
5/31: Spring Festival Fundraiser at the Kenai Peninsula Food Bank. Fun for all ages, with a free BBQ picnic and music. Donations encouraged. Link here.
5/31: Annual Pet Fun Run at JBER. Bring your furry friend and race to the finish line. The top three pet-owner teams will receive prizes. Register here.
5/31: 2019 Sporting Clays Classic in Chugiak to support scouting in Alaska. Teams of five will go head-to-head, with the best shooters taking home the prize. All levels of shooting experience welcomed. Details here.
5/31: Interior Alaska Republicans weekly luncheon at Denny's in Fairbanks. Guest will be Nenana Mayor Joshua Verhagan. Open to the public, begins at 11:30 am.
5/31: Friday Fling in historic downtown Palmer from 10 am – 5 pm. Set to feature local vendors, diverse cuisine, and entertainment for all ages. This event will be recurring each Friday all summer long. Website here.
5/31: Clean-Up Day at the Palmer Hay Flats State Refuge. Volunteers are needed in order to make the refuge as beautiful as it should be for the summer ahead. Garbage bags and disposal will be provided, see more here.
6/1: The 13th Annual Seward Annual Halibut Tournament will open on June 1, 2019. This early-season halibut derby has a grand prize of two round-trip tickets to any Alaska Airlines destination. Last year's winning fish weighed 248.2 lbs. It will run through June 30.
6/1: Ninth annual Fiddlehead Festival at the Hotel Alyeska. Bring the whole family to enjoy music, food, crafts, and all sorts of fun. If you want, try the fiddlehead dishes prepared by talented Alaskan chefs. This event is free to all. More info here.
6/1: Potter Marsh Discovery Day 2019. Anchorage's most popular wildlife viewing event will take place along the Potter Marsh boardwalk starting at 11 am. Educational animals will be present, and the free event is open to all ages. Visit this link for more info. Drive with care in area.
6/1: Homer's Bear Creek Winery will host their annual music festival and pig roast to benefit the Homer Sports Scholarship. Tickets here.
6/1: Sixth annual Walk-n-Roll for animals to benefit the Mat-Su Valley Animal Shelter. Last year, the funds raised from this event paid for the spaying/neutering of almost 200 animals. Participation fee is $35, link to register here.
6/1: Kids Fishing Day at the Chugach National Forest. Forest Service staff will be on-hand to teach fishing skills to young Alaskans through an array of fun games and exercises. This event is free to all, learn more here. '
6/1: Sitnasuak Native Corporation will hold its 45th annual Shareholders Meeting in Nome. Shareholders will have the chance to discuss SNC's past year as well as voting on four Board of Directors seats.
6/1-6/2: Outdoor Market in Wasilla. Come enjoy Alaska made crafts and food. Fun for all ages. Info here.
6/2: Rev Alaska Auto Show inside the Sports Complex in Wasilla. Come to chat with attending Alaska State and Wildlife Troopers, or to take a look at the many Alaska autosports expositions on display. Free to attend, more info at this link.
6/2: Fourth Annual Barrel and Bike Show at Anchorage Brewing Company. Entry is free, and parking is limited for non-motorcycle vehicles. Will take place from 2 pm – 8 pm rain or shine. More details here.
6/4: 100th Anniversary of Women's Right to Vote Celebration hosted by Anchorage Republican Women. Will take place at the Delaney Park Strip Veterans Memorial. Visit this link for more info.
Alaska History Archive:
June 1, 1909: 110 years since the famed Alaska-Yukon-Pacific Exposition took place on the grounds of the University of Washington in Seattle. This world's fair was an immense success, pulling together thousands of Alaskan and Canadian art and artifacts for the public to enjoy. It also helped promote Alaska's lasting economic and cultural ties with Seattle and the Northwest region at large. An impressive 80,000 people attended the fair on its opening day.
June 2, 1883: Early Anchorage resident and pioneering businessman Oscar Anderson was born in Sagerskog, Sweden. Anderson claimed to be the 18th person to ever step foot in Anchorage, though this claim has since been contested. Most know Anderson's name in relation to the Oscar Anderson House Museum on M St. in downtown Anchorage. A fun visit.