NO ON PROP 1 DROVE TURNOUT
It would be beyond extraordinary for the uncounted votes to change the outcome of Tuesday's Anchorage Municipal Election.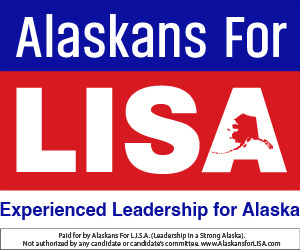 Of the 50,000 votes counted, Mayor Ethan Berkowitz won 28,233 votes to Rebecca Logan's 17,541 — a nearly 22 percent margin.
Any remaining ballots would have to nearly all go to Logan for her fortunes in this race to change.
Other minor candidates on that section of the ballot never reached two percent.
To force a runoff, Berkowitz would have to have had less than 45 percent of the vote, but today has 57 percent, a comfortable margin. Unless the remaining ballots were cast by hard Republicans, he has won another three years.
Prop. 1, the bathroom bill, was voted down 26,845, to 22,961. This was a question about whether transgenders and men may use women's bathrooms and changing rooms if they feel more comfortable there. Over $1.1 million was spent to persuade voters, and that clearly drove turnout, as it was the second-most-voted-on question on the ballot.
Prop. 10, won with 67 percent of votes cast, although it only needed 50 percent plus one vote. It approves the sale of Municipal Light & Power to Chugach Electric Association.
The turnout, now at 30.44 percent is likely to reach 33 percent once all of the remaining ballots come in. Those are ballots that would be in the mail but have not yet arrived at the Municipality's election office.
The city's first-ever mail-in election cannot be said to have suppressed votes, nor was there a late "blue wave" of liberal votes. But the more than $1 million spent by the "No on Prop. 1" campaign drove turnout, and that favored the sitting mayor. "Yes on 1" was outspent nearly 10-to-1, after the final 7-day and 24-hour reports came in.
The top vote getter of the night was Berkowitz, and the second was No on Prop. 1.
The No on Prop. 1 campaign spent about $37 per no vote in the election. Their focus was on driving turnout, the results of which were reflected up and down the ballot.
NAME RECOGNITION WAS KEY
The Republican-to-Democrat advantage grew to about 7,500 voters on the final day of voting, which got off to a slow start in mid-March.
But in spite of the advantage that Republicans had over Democrats, the swing voters broke for Berkowitz, possibly because Ethan's was the name on the ballot they knew.
Neither the Berkowitz nor the Logan campaign raised a significant war chest for their races, but the mayor, as a known commodity, out-raised Logan significantly and had public employee union support.
The bright spot for conservatives was the reelection of Elise Snelling for school board and the possible election of Alisha Hilde for school board. She leads by 347 votes, clearly too close to call.
ETHAN CAN TRUTHFULLY CLAIM A MANDATE FOR TAXES, SPENDING
In a crime-infested, high-unemployment city, where the liberal majority assembly has had the highest budgets in Anchorage history, the re-election of the mayor is a wake-up call for conservatives. Those who thought Anchorage was turning "purple" may reconsider after this week, and see more blue in that purple.
It's also an election that will give comfort to Gov. Bill Walker, who is running far to the left of where he started his political career. Anchorage's municipal vote gives his campaign a ground-truth indicator of how the Anchorage votes might break in November.
In Anchorage, resource jobs have left, health-care jobs have moved in, and government jobs have remained steady. The city is regressing to the norm for large urban centers in the U.S., undergoing a transformation that favors candidates supported by Democrats and the public employee unions.