Sarah Palin lover Ron Duguay may be all done with one Dina Gaille of Florida, but Gaille, whoever she is, is not done with him. And Sarah Palin appears to be right in the middle of this Facebook drama, with Gaille trolling both Palin and her new squeeze Duguay on Facebook and Twitter.
The social media trolling by the Gaille social media account has been going on since last December, on and off.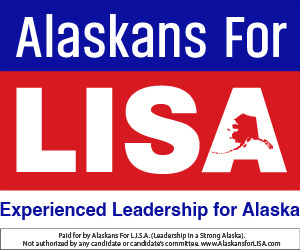 A series of posts by Gaille — or her account — shows she's one unhappy customer after Duguay evidently ran off with Palin last November, as Gaille tells it. Gaille's account posted a series of comments under a completely unrelated Facebook entry by congressional candidate Nick Begich, who had put photos of the Arctic Thunder Air Show on his Facebook page. Among the evidence Gaille posted, were photos of herself and Duguay when they were apparently much closer, but before Palin came into the picture.
There's no telling if any of it is real. After all, this is social media.
On Twitter, another person identifying as Gaille has written that Palin had sent a steamy message to Duguay.
The message is too hot to handle in this blog; it's not even clear how Gaille intercepted the email, but she says that Palin wrote it using a Bitcoin-related address that Duguay also used; Gaille called it "sneaky."
Must Read Alaska has attempted to contact Gaille, but has not been able to reach her.
With Palin in the news in Alaska as she runs for Congress, the Gaille social media account, dormant on the topic for months, is at it again, posting warnings that Palin is hot after Duguay and not paying attention to Alaska:
"Well Alaskans need to know that Sarah is distracted with her new Boi in Florida!" Gaille wrote this week, using the term "boi," which she indicates is a Palin term in the steam email to Duguay. "She's here at his home often! Based on the attached email that I came across in complete she may want to work on her emotions! Apparently she emailed her feelings after having sex with her new boi! Who is weak enough to do something so foolish! I'm actually embarrassed for her! Would make a great SNL skit don't you think!"
Gaille's post says that Duguay went to Palin's house the day after Christmas and stayed for three weeks. Gaille posted on Dec. 29 that people should look out for Palin due to her lack of self control:
At the time of the Gaille social media slams were going on this past winter and early spring, the romance with Duguay was still top secret, and Palin's associates told People Magazine that Palin and Duguay were "just friends who met through hockey." Duguay was with her in New York City during her trial against the New York Times for defamation, and the media blew up over the two of them eating at a restaurant after Palin had tested positive for Covid.
"After the former Alaska governor and vice presidential hopeful, 57, was seen at an Upper East Side restaurant this week in Manhattan with the retired New York Rangers player, speculation sparked about a new romance," People wrote.
"The pair was photographed at Elio's eatery on Wednesday evening, and Page Six reported on Friday that they have been an item since late last year.
"However, a Palin source tells PEOPLE they're "just friends" who "met through hockey." (Duguay could not be reached for comment.)," People Magazine wrote.
Gaille, the social media person in Florida, appears to corroborate that account with her social media commentary.
Palin, former governor and media personality, is subject to plenty of scrutiny of her policy and political judgment. But since she's now single and living in the fast lane of New York and the luxury community of Ponte Vedra, Fla., there's at least one Florida ex of Duguay who has some stories to tell, and she's telling them on her own terms.
While Todd Palin filed for divorce from Palin in 2019, Duguay and Sports Illustrated Swimsuit Issue model Kim Alexis divorced in 2016. Before her, Duguay was married to California model Robin Bobo. He also dated Charlies Angels' actress Farrah Fawcett in the 1980s. Some websites say he also dated Patti LuPone, Cher, Bianca Jagger, and Cheryl Tiegs.
But there's no mention online of him dating anyone named Dina Gaille, except for the photos that she has posted of the two of them when they may — or may not — have been an item:
With Duguay's long history with beautiful women, it is difficult to know if this is just a passing romance for him. If Palin loses her bid for Congress, will he go from being Ron Duguay to Ron Du-gone? Time will tell.