By LINN MCCABE
As most Alaskans know, the Alaska House of Representatives has been in disarray for at least the last six years. Recently, a couple of conservative legislators attempted to provide leadership in a move to restore some order to the chaos by moving to table several dilatory "intent-language-only" budget amendments offered by members in their minority caucus.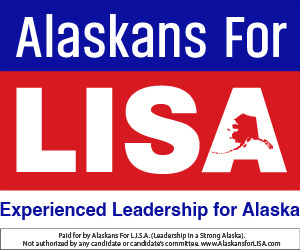 Two of the amendment sponsors took exception to the motions. Their activist friends, and the affiliated entities they operate, such as Alaska Right To Life, and Alaska Gun Rights (affiliated with National Association for Gun Rights—NAGR), began to attack the legislators who moved to table amendments.
The activists posted intellectually dishonest content on social media, and created inflammatory flyers which they circulated from their booth at a local gun show. They even went so far as to show up in Juneau, where they intimidated staffers in their zeal to publicly attack the two legislators who made the motions; attacking only these two legislators, despite overwhelming affirmative votes by most members of their caucus.
All of those associated with the attacks, including the two legislators whose amendments were tabled, have been trained by the Foundation for Applied Conservative Leadership, or FACL.
FACL, which was founded by Mike Rothfeld, along with NAGR, claim to be ultra-conservative Christian organizations attempting to change the political landscape for several years through political activism.
What they do, however, is hardly conservative, nor do its practitioners appear to adhere to the most important elements of the Christian faith. FACL teaches that, in order to bring other conservatives in line, you must hold them accountable and cause them to feel pain when they don't vote or behave as you wish.
It is a type of binding caucus; pain is applied by FACL activists through "confrontational politics" with a goal of exposing the politician who went against their "champion."
The term "confrontational politics" was first used by Senator H.L. Richardson several years ago as a means by which conservatives could counter Saul Alinsky tactics of the left, but the tactic has been subverted by Rothfeld as a means of attacking fellow conservatives.
A recent article by Lance Roberts implies that the two FACL-affiliated legislators whose amendments were tabled are "actual conservatives (those who do something, not just those who speak conservatively)."
The facts, however, defy this statement. A simple review of much of these FACL-affiliated lawmakers' legislation does, in fact, expose a lack of will for these bills to become law. It is the two FACL-trained legislators who are not doing the necessary work.
Missing from most, if not all, of their legislation, are other elements required to move it along: There are no sponsor statements, sectional analyses, or requests to the committee chairman for a hearing. Some of these bills, which are being used as a bludgeoning tool against other conservatives, were introduced as far back as spring of 2021. Their lack of action on the bills they filed, leads one to ask why they were put forward in the first place. And yet, those bludgeoning the non-submissive legislators accuse them of not signing onto the legislation.

Legislators know that if they sign onto legislation early in the process, they run the risk of being associated with legislation that morphs into something else during the committee process, as those in the majority are likely not friendly to their cause.
Regarding the budget amendments last month, one FACL-affiliated legislator was the sponsor of over half of the amendments; 47 of the 88 budget amendments offered came from one legislator, and 19 of those were intent language only. Amendments and work from the legal department is not free; it costs the state a significant amount of money.
One of the budget amendments that FACL activists have used in wielding their attacks was an amendment that aimed to strip pay from the commissioner of DHSS if any state funds were used to pay for abortion. Any legislation that is designed to target a specific employee in state government for punishment is wildly unconstitutional and violates the separation of powers clause(s.) Had it been constitutionally viable, it would have been rendered moot by the passage of the prior amendment which provided that no state money could be used to fund abortions.
Many legislators over the past several years have been the victims of the confrontational techniques of the FACL-trained activists and have refused to caucus with any legislator who has used these tools against them. The whole reason that Republicans are not in the majority is because three Republicans refused to caucus with the representative who has been the face of FACL in the Legislature. Reaching a majority and acquiring leadership positions, including chairmanships of committees, is all a numbers game—a game of addition, not subtraction. Any move away from the caucus, regardless of the strength or weakness of political leanings, is a step toward relinquishing movement on any conservative legislation. FACL acolytes have been great friends to the Left in recent years.
A lawmaker who is trained in FACL tactics will introduce the most stringent legislation or amendments possible on a topic in order to get other conservatives "on-the-record" voting a certain way. One of the most-used topics for this purpose is abortion legislation; maybe even legislation that would provide for the arrest of the girl who has an abortion and charging her with murder.
Pro-life legislators (whose districts will not tolerate voting for arresting the girl) who vote against the legislation are then labeled as not being pro-life. The activists who align with the FACL lawmaker will then use the voting record against targeted lawmakers to call them out on social media and elsewhere.
This burn-the-house-down mentality, using the application of low-information rabid activists, has created division, making the FACL movement best friends with the Left; the Left doesn't need to lift a finger to take advantage of this division to propel their agenda forward.
This week the Republican minority caucus expelled a member. This is nothing new; this same FACL "champion" legislator has been [clarification] censured by the House because of comments deemed racist, and has been previously stripped from committees for alleged unethical conduct. What is new, however, is that conservative Republicans have had enough. They are apparently finished with FACL and any attempts to control the entire body with incessant and dilatory motions, "filibuster" style comments in committee and on the floor, and other tactics; as well as the intimidation applied by his co-FACL activists used to cause "pain" for those who push back. 
I attended FACL training two years ago, and have several friends who have also attended the training. Many of us have distanced ourselves from FACL as we came to recognize that their tactics do not align with our faith, or even true Republicanism. There is no love and grace in these techniques and frankly they are ineffective on legislators in the minority. For example: What is the point of holding a legislator accountable when he or she chairs no committees, and has virtually no say in the outcome of legislation.
These techniques create divisiveness and a constant churn of freshmen legislators. Republicans will never get to the majority if FACL tactics continue. This is the purpose of the Fairbanks resolution introduced at the Republican Convention. Because FACL tactics are now so well recognized by many conservatives, the resolution passed by an overwhelming majority.
The Legislature belongs to all Alaskan's; it does not to belong to FACL, and it is not the property of any individual legislator or their activists. FACL tactics, and the Republican fratricide they espouse must be eliminated so Alaska can move forward. We must get back to the people's business.
Linn McCabe of Big Lake is married to Rep. Kevin McCabe and has been through FACL training.