Editor:
Rarely do I get involved directly in our District 6 politics. This year I have to make an exception.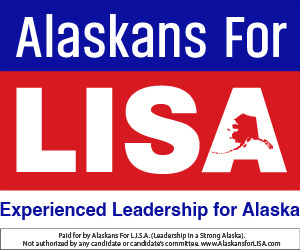 A spoiler has entered our District 6 race as a so-called conservative. He has not supported our president and he bolted the Republican Party to avoid running against Mike Cronk in the primary.
Now he is set to be spoiler by splitting the conservative vote and handing the district and our future to a leftwing activist who claims Nenana as her home.
With the conservative vote split and liberals now seeing an opportunity she can win with only 35% of the vote, they have been pouring money into her leftwing campaign. That would be a disaster for our district, as the values we cherish are one by one being threatened by the radical left.
I urge all conservatives to support Republican Mike Cronk. Please do not waste a vote for a spoiler who is trying to present himself as a credible conservative candidate. Any person who has manipulated the system to avoid the primary and has bolted the Republican Party as an officer does not speak credibility or trust. His so called "legislative expertise" is also misleading.
I know Mike Cronk and his incredible family. Mike is not a politician. Mike strongly supports a full PFD as written in statute. He is one of us and will fight for conservative values and our way of life we cherish so deeply.  Finally I want to make it clear I am writing this letter of concern on my own, having served as a representative and senator over a 10-year period. Thank you for taking my concerns seriously.
Sincerely,
Dick Shultz