By KELLY TSHIBAKA
Joe Biden is the worst president in the history of the United States. He could not have accomplished this humiliating "achievement," though, without Sen. Lisa Murkowski's consistent support.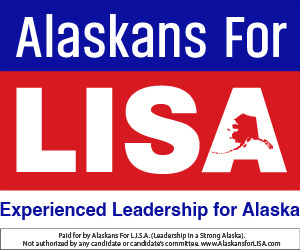 Through his COVID-19 vaccine mandate, Mr. Biden intentionally violated the constitutional and civil rights of millions of Americans, imposing his will on their bodies by threatening their livelihoods.
Mr. Biden previously pledged not to issue such a mandate, and White House press secretary Jen Psaki even conceded the federal government did not have that authority. White House chief of staff Ron Klain also publicly promoted the idea that the shot mandate was the "ultimate workaround" of the limitations on Mr. Biden's executive power. Mr. Klain's retweet of an MSNBC anchor was noted by the U.S. Supreme Court in the ruling that struck down the mandate.
Let's remember that Justices Brett Kavanaugh and Amy Coney Barrett, who joined the majority to block Mr. Biden's tyrannical power grab, would not be on the court if Ms. Murkowski had prevailed in opposing their nominations. Without Mr. Kavanaugh and Mrs. Barrett, the ruling could have gone the other way.
To knowingly violate the Constitution was a breach of Mr. Biden's oath of office. To oppose the confirmation of justices who went on to block Mr. Biden's shot mandate remains a stain on Ms. Murkowski's record.
What's more, by his own standards, Mr. Biden has been an abject failure in combatting COVID-19. When COVID-19 deaths reached 200,000 during former President Donald Trump's time in office, Mr. Biden said, "anyone that is responsible for that many deaths should not remain as president." COVID-19 death totals now exceed 850,000. I've lost loved ones to COVID-19 this past year — I imagine others reading this are also grieving.
Mr. Biden blasted Mr. Trump for the COVID-19 testing program during his campaign, promising he would do better. In fact, he has promised an improvement in testing availability month after month, but things still have not improved. Americans suffering from COVID-19 are waiting for hours, even days, to get tested and have access to critical treatment.
In December 2021, Mr. Biden said he "wish [he] had thought" about expanding test availability. This was around the same time he renounced federal responsibility for COVID-19 and said it must be solved at the state level. Yet, he still imposes mandates that are debilitating health care systems, controls access to shots and provides inadequate allotments of monoclonal antibody treatments.
In a new CBS poll, Mr. Biden also gets failing grades for his handling of the economy — only 38% of Americans approve of his handling of the economy, and a mere 30% approve of his approach to inflation.
In fact, under Mr. Biden, the U.S. dollar's global position is at a 26-year low, with many wondering if the dollar will soon cease to be the world's reserve currency.
Amidst all this economic turmoil, Ms. Murkowski stepped in to bail out Mr. Biden, siding with Democrats to permit a vote to raise the debt ceiling and authorize more government deficit spending.
Mr. Biden also has surrendered America's energy independence, rendering the United States a supplicant for oil to Iran, Iraq and Russia, contributing to nearly 30% in increased energy costs over the past year.
Ms. Murkowski championed Mr. Biden's energy-annihilating agenda by casting the deciding vote to advance the confirmation of Interior Secretary Deb Haaland, who has since led Mr. Biden's assault on Alaska's energy workers and has crippled domestic fuel production.
In fact, Ms. Murkowski has voted to confirm over 90% of Mr. Biden's radical nominees, who are spearheading his failing agenda.
Those confirmations include DHS Secretary Alejandro Mayorkas, whose policies have resulted in nearly 2 million illegal immigrant encounters at our border. In contrast, DHS reported less than 500,000 illegal immigrant encounters in FY 2020.
Ms. Murkowski did not join the dozens of Republican senators who visited the southern border in 2021 to demand immigration policy reform. She did, however, vote in 2013 to allow millions of illegal immigrants, including those who committed crimes, to remain in the U.S.
Perhaps the most tragic event on Mr. Biden's record for the first year was his entirely avoidable blunder in Afghanistan. Before his botched troop withdrawal, Ms. Murkowski expressed confidence in Mr. Biden's "viable plan."
Ultimately, his reckless and ill-fated military withdrawal left 13 American service members dead, stranded countless Americans, and handed the country and billions of dollars of American military hardware to the Taliban. Apparently, these are the kinds of plans Ms. Murkowski believed were "viable."
Ms. Murkowski is running for reelection, and she's trying to brand herself as "independent." But, she is not.
She's a dependable supporter of Mr. Biden, the worst president in U.S. history.
Kelly Tshibaka is a born-and-raised Alaskan and a candidate for the U.S. Senate in Alaska, endorsed by former President Donald Trump and the Alaska Republican Party. This opinion was first published by the Washington Times on Jan. 24, 2022.