By JAMIE ALLARD
The founders of our nation fought hard for freedom. They risked, they bled, and they died for freedom.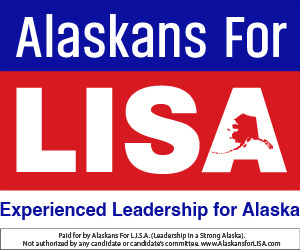 "We Mutually Pledge To Each Other Our Lives, Our Fortunes And Our Sacred Honor," words written in the Declaration of Independence, show they were under no illusion about how tough the fight would be to establish a new nation based on liberty and law.
One thing they did not do is lose their nerve and they didn't give up when it got tough. When they decided to break away from England on July 4, 1776, they faced horrific setbacks and terrible times. But they kept marching forward, against an oppressive government.
In Anchorage, we've had a small taste of that oppression over the past year, which ought to be a warning to us all. Conservatives stayed quiet and uninvolved in local politics for a few years, and when the Covid threat came, liberty after liberty was stripped. People didn't see it coming. They never thought their fellow Americans would cave so quickly.
That's the thing about conservatives — we are often focused on our families, our faith homes, and our jobs. We volunteer and we love to get out and enjoy the world. While we were focused on our lives and paying attention to other things, our city was taken by hardliners, and then our freedoms were quickly stripped from us.
How quickly we forget that just last November, there were actual executive orders from the acting mayor that limited the number of people who could gather for Thanksgiving in private homes. Worship services were canceled by order. Funerals were canceled. Memorial Day, the Fourth of July, and Veterans Day suffered the same fate.
Traditions and families were kept apart and Anchorage became an oppressive city, ruled by fear and misinformation.
No more. We celebrate Independence Day this year not only for the founding of our country, but for the taking back of our city.
On Thursday afternoon, you could see how ready people were to celebrate freedom at the block party for Mayor Dave Bronson's inauguration. People were dancing, singing, and smiles were seen everywhere. There were a thousand or more people at the Delaney Park Strip, many who wore red, white, and blue. Nobody even minded the transgender men who walked around the perimeter in women's lingerie.
I go into this Independence Day weekend bursting with pride for my city, and her people who voted their values, and especially for those many campaign and grassroots volunteers who worked hard to turn Anchorage back to what we can be again — a community of possibility and opportunity. They sacrificed many hours, weeks, and months.
I also believe that a momentary victory can lull us into thinking we're out of danger. We are not, Anchorage. We must keep our focus at the local level — on local Assembly and School Board races, or all we have fought for can be quickly undone by the radical Left.
Anchorage, be proud and move forward. But do not forget what happened in 2020. Another election is just ahead, and we cannot take our eyes off the road if we truly want our city to shine again.
God bless everyone, and may God bless America.
Jamie Allard is your assemblywoman for Chugiak/Eagle River and was chosen by Must Read Alaska readers as Alaskan of the Year.