By JAMES KAUFMAN
As an elected State Representative who has been in the middle of the big debate about the fiscal policy of the State of Alaska, including the PFD and how we fund our state government, I thought that I should provide some context to my recent votes on HB 3003.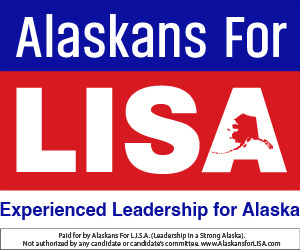 I am a Republican, with a bit of libertarian in me. I have looked at the PFD issue closely and seriously. In doing so, I have determined that the future of larger than recent PFD's would require the creation of new bureaucracy and new taxes.
This creates a challenge, because during my campaign, anyone that met me at their door, my events or heard me on television, radio, zoom meetings, etc. knew that my beliefs were (and still are) as follows:
I am not anti-PFD, but the state's ability to pay according to the historical formula has been diminished by shifting and declining revenue, combined with a government that needs reformation to provide a higher quality product at a more reasonable cost.
Without reductions in total cost of government, PFD's larger than those recently issued will require new taxes.
I am not yet in favor of ramping up taxes to feed a government that has not implemented a coherent set of improvement initiatives to get more value out of the cash being burned.
We need to build consensus and fix the conflicting statutes.
I developed my positions by paying attention to the voices of my constituents and the past decisions which led us here. I was honored to have won without promising anything specific about PFD amounts, but rather that I would approach problems methodically while trying to drive our state government towards higher efficiency, better results, and more accountability.
During the Aug. 30 House floor session, I voted to support an $1,100 dividend as opposed to larger dividends including the $2,350 amount calculated by the Governor's proposed 5% POMV 50/50 plan and the original statutory amount which would yield more than $3,700. 
I voted the way I did because we have not yet resolved the source of the conflict, our structural fiscal imbalance. I feel that I would be breaking a campaign promise if I were to support an unbalanced budget or new broad-based taxation to close the gap. However, even with these constraints we can still have a dividend that is above recent status quo at about $1,100 and growing into the future. 
We have the recommendations of the latest Fiscal Policy Work Group, but those recommendations have not been completely agreed upon, and none of the recommendations have been implemented. Larger dividends have not been paired with possible new sources of revenue, who would pay and how tax collection would be administered. There has been talk of cost reductions but realizing those reductions will be painful and hard to achieve unless we can learn how to improve our management systems and rethink some of our processes and assumptions.
I am not in favor of new or increased taxes if we don't first improve how the state manages spending during periods where revenue increases. I believe that the most important and first steps are to establish a functional limit on government spending and then begin implementing improvement projects to drive out waste and increase performance.
HJR 301/HB 3001 are my proposed policy solutions for implementing cost control by linking appropriation limits to our private sector performance. I will continue to introduce other legislation aimed squarely at my core policy focus of improving operational and quality management systems and practices within the executive branch of the State of Alaska.
In making these suggestions to avoid new taxes until we cap spending and improve government operations, I have not moved away from my conservative roots or my campaign promises, which guide me towards trying to build our private sector, promoting responsible fiscal policies, and seeking to continuously improve the quality of Alaska's government.
Rep. James Kaufman serves in the Legislature for Alaska House District 28.