The House Republicans issued a press release on Saturday afternoon, saying all 20 Republican are sticking together.
There are actually 21 Republicans in the House, but Kodiak's Louise Stutes has said she would not caucus with the Republicans, which has been her decision for several years. She is the lone member of the former Muskox Caucus, which was made up of rogue Republicans.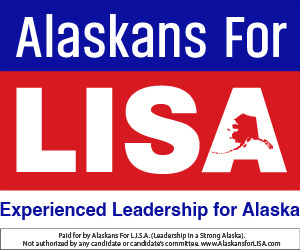 House Republicans met for several hours on Friday in the Butrovich Room in the Capitol, trying to figure out who they can invite in from the Democrats to give themselves a working majority.
None of the Republicans appear to be a flight risk, according to those who were knowledgeable with the meeting.
Last year, a group bolted from the Republican caucus, led by Rep. Stutes, the late Rep. Gary Knopp, and the former Reps. Jennifer Johnston and Chuck Kopp. Those who went with them to organize with the Democrats included the former Rep. Gabrielle LeDoux, the former Rep. Tammie Wilson, and Reps. Steve Thompson and Bart LeBon of Fairbanks, who were the only ones of that group returned to office by voters.
"All 20 members in attendance reaffirmed their support for a Republican led majority in the House," the release from Rep. Cathy Tilton's office said.
"The Alaska Legislature faces a daunting task in 2021," said Rep. Bart LeBon (R-Fairbanks). "We must reconcile state finances and address the ongoing COVID-19 pandemic. We have to take action to keep Alaskans safe, keep our state functioning, and rehabilitate our economy."
"Alaska needs common sense leadership in state government that prioritizes resource development, grows the private sector, and puts Alaskans back to work," said Rep. Kelly Merrick (R-Eagle River). "We need to be able to push back on a federal government that will do their best to devastate Alaska's economy and way of life."
"House Republicans stand ready to work with everyone – rural and urban legislators, Independents and Democrats, as well as Governor Dunleavy and our Senate colleagues in order to balance the budget and navigate the COVID-19 crisis," said Rep. Steve Thompson (R-Fairbanks). "We must make policy changes that have broad support from Alaskans of all ways of life, and all corners of the state. That is how we create stability for Alaska's communities and economy." 
"Alaskan families and businesses have been hit hard by the pandemic. We need to strike a healthy balance between providing services the public relies on and controlling spending, so we don't further damage the Alaskan economy that has been on hold for almost an entire year," added Rep. Cathy Tilton (R-Wasilla). "We want to see businesses and families investing in Alaska for future generations."
House Republicans are in discussions about coming together and working for all Alaskans. That dialogue will continue until a majority is formed and the House can undertake the important work of moving Alaska forward, the release stated.
Democrats plus Rep. Stutes also total 20, which means the House cannot organize until there is a majority established.