Gov. Mike Dunleavy says that the budget, without an agreed-on effective date, is unacceptable because it means the government will shut down until September.
He said in a press conference he expects the Legislature to fix the problem by Friday night, the final day of special session, and he is ready to call them back into another special session that would start next Wednesday, if necessary.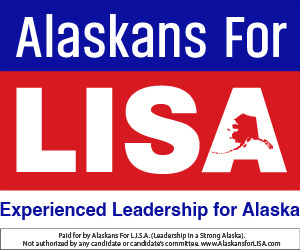 On Thursday, the required layoff notices went out, because the Legislature was unable to agree on the effective date, which either must be changed, or is constitutionally mandated to go into effect after 90 days.
If the government shuts down, it would only be partially because the governor has a constitutional duty to keep public safety and health functions going. That means Troopers, guards, and public health nurses would continue to work.
Also, the airports will remain open because of a federal requirement to not impede interstate commerce. Even Alaska State ferries could come under that requirement. But things like permits and drivers' licenses may not be available, as many functions of government would be put on pause.
Rep. Zack Fields, who voted for the budget and for an immediate effective date, as did all Democrats, said it's the governor's fault and that Dunleavy could ask the Republican minority to "rescind action and vote yes on the floor this week, and get the 2/3 vote. But he has not done that because he's manufacturing a crisis to hold the whole state & economy hostage over the dividend." He did not, surprisingly, say that the governor should just sign the budget and let it go into effect July 1.
It was the Republican House Minority, with the exception of Rep. Bart LeBon, that voted to block the effective date, as they are unhappy with the $525 Permanent Fund dividend, and also unhappy about the inappropriate use of the Constitutional Budget Reserve as the fund source for the dividend.
The governor has had several conversations with leaders of both the House and Senate, and likely advised them as to his plans before his 2:30 pm press conference.
When asked by a reporter what he thought was the reason the budget failed, Dunleavy said there are 60 different legislators representing different districts.
Left unsaid by the governor is that in the past, the "binding caucus" made it easier to get the budget passed, but with no binding caucus in the House or the Senate, there are 60 moving parts at any given moment on a budget, making the problem for legislative leaders that much more difficult.