Former House Representative Bob Lynn died on Memorial Day, May 25, 2020. He was 87.
Lynn served as an Alaska legislator from 2003 until 2016, when he lost the primary for what is now District 26, Anchorage hillside, to the late Chris Birch.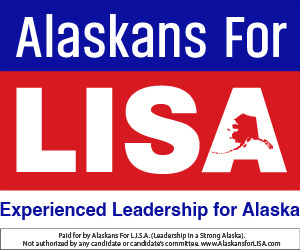 In 2019, Lynn had packed up his life in Alaska and, with the help of his grandson Danny Aab, drove 4,000 miles to Ranch Cucamonga, California, to be closer to his family as he aged. He had been in the hospital in recent weeks as his health failed.
Lynn was born in East Los Angeles in 1933. In his long and interesting life, he served the U.S. Air Force, where he was an F94C fighter pilot. He served in Vietnam as a radar controller at Monkey Mountain and in Air Defense Operations (including Kotzebue), was an inspector general, and had been awarded 17 awards and decorations, including the Bronze Star and Vietnam Cross of Gallantry. He was a school teacher, a police officer, ambulance driver, and Realtor at different times in his civilian life, but he was always a Vietnam Veteran, and an advocate for veterans.
Lynn earned his bachelor of arts from University of Arizona, and a masters degree  from California State University, Long Beach. He served as mayor pro-tem and city councilman of the City of Moreno Valley, Riverside County, California, where he was instrumental in the founding of that city in 1984.
He was married to his wife Marlene Wagner Lynn, whom he had met on a blind date, until her passing in 2016; the couple had six children and by this point more than 21 grandchildren. The family was close and Bob Lynn was the beloved patriarch. His family spent much time with him in recent months.
Lynn was an a prolific blogger, and kept an online journal during his service in the Legislature and afterwards, often writing about history with his interesting historic vignettes. He was also a gifted photographer, and posted many of his photos on Facebook over the years, where he kept in touch with friends and former colleagues. He was still writing notes and posting photos from his life on Facebook in April, and filling in the gaps of history about his experiences on his journey through life. His Facebook page is a treasure of historic notes that include many memories of Vietnam, as well as his time in the Legislature:
"I was the chair of the Alaska Legislature's State Affairs Committee for several years," he wrote last year. "We heard many highly controversial issues. But nothing was more controversial that the subjects of Daylight Savings Time and Traffic Circles. I must confess, when those two subjects came before my Committee, I had the urge to flee the scene. Attempting to change anyone's opinions on Daylight Savings Time and traffic circles will always be more difficult than trying to change someone's religion. I predict those two subjects will haunt the State Affairs Committee ad infinitum. I miss chairing the Committee, but I don't miss that."
In the House of Representatives, Lynn was a member of the Republican caucus, serving on numerous committees:
Chair, State Afffairs Committee: 2007 – 2008
Chair, Military and Veterans' Affairs Committee: 2005 – 2006
Member, Armed Services Committee: 2003 – 2008
Member, Economic Development, International Trade and Tourism Committee: 2005 – 2008
Member, Education Committee: 2005 – 2006
Member, Judiciary Committe: 2007 – 2008
Member, Labor and Commerce Committee: 2003 – 2006
Member, Military and Veterans' Affairs Committee: 2003 – 2004
Member, Resources Committee: 2003 – 2004
Member, State Affairs Committee: 2003 – 2006
Member, Majority Caucus 2003 – 2006
Do you have a fond memory of Rep. Lynn? You are invited to leave it in the comments.