By CRAIG MEDRED
CRAIGMEDRED.NEWS
Patagonia – the California-based clothing company that last winter announced its new corporate mission is to "Save the Planet" – might be planning a stealth offensive.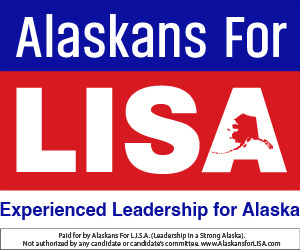 For the first time ever, the environmentally active business that helped bring Alaska "amateur bear expert" Timothy Treadwell is marketing camouflage outerwear.
Patagonia bills its "Bear Witness Camo" in wind shells, down sweaters,  bike jerseys and more as a "new color."
Camouflage clothing has traditionally been marketed to hunters and the military – groups Patagonia has in the generally tried to avoid. Thus the new color caught the attention of Rod Arno, director of the Alaska Outdoor Council.
"Crack me up," the leader of the state's largest hunting and fishing organization. "The anti-hunting outdoor clothing manufacture has to sell camo now to stay in business?
"For years, I took a picture of myself and Patagonia gear with a dead animal, and they sent it back every year saying they did not support hunting."
Patagonia has not revealed its motives for going camo, but the "color" is trending in fashion markets. The company founded by climber Yvon Chouinard has long had a strong fashion sense and good timing which, along with some higher prices, has sometimes led to Patagonia being mocked in Alaska as Pata-Gucchi.
"Camouflage Is Back (Yes, Again) and Here's How to Wear It," GQ magazine headlined late last summer.
"The motif is masculine, muted, and not complicated to reproduce on the cheap, which makes it too tempting for designers and brands both high and low to pass up," wrote the magazine's Megan Gustashaw.
Yes, you can't get much more masculine than combat attire.