AND CHIEF JUSTIN DOLL ISN'T HAPPY ABOUT IT
The group advocating a no vote on Proposition 1 used the image of Anchorage's top police officer in a campaign to sway voters this month to vote against the safe bathrooms ballot question during the municipal mail-in election, which began about March 15.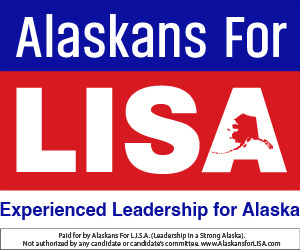 On the Mike Porcaro Show yesterday on KENI (650 AM), Police Chief Justin Doll said he had not given permission for the group to use his name, image, or endorsement in its position on Prop. 1, and he was none too happy about being blindsided by them.
Fair Anchorage is an independent expenditure group founded primarily by the Alaska branch of the ACLU. Ship Creek Group, the campaign company founded by the governor's campaign manager John Henry Heckendorn, is doing much of its campaign work. It has acquired hundreds of thousands of dollars from Outside to push voters into opposing a measure that would keep public bathrooms separated by gender.
The ACLU is fighting for open bathrooms, locker rooms, and changing rooms so that people who are uncomfortable using one gender's bathroom can use the other.
The chief said the group had apologized to him and agreed to pull back any of its social media and other propaganda, but the postcards have already been received by all Anchorage voters.
Porcaro asked Doll if he felt the police force had been weaponized by the "vote no" side. Yes, Doll said, adding that police stay out of weighing in on political questions.
Jim Minnery, whose group Alaska Family Council is heading up the "Yes on One" campaign, issued a statement saying that Fair Anchorage was not playing fair with their campaign to sway voters toward the open-bathroom policy in Anchorage
"Bottom line – how many voters who have already turned in their ballots were misled by this completely inaccurate representation?" the group asked on Facebook.
The Mike Porcaro Show podcast can be found at this link.
Porcaro said that an apology from the group is owed to the entire public, but in mail-in elections, most ballots that will be voted are likely already in the mail. If voters felt swayed by Doll's apparent endorsement, it's too late. The election ends on April 3.