An amendment on a bill that would make a 50-50 split of the available earnings from the Permanent Fund, giving half of those earnings to the people of Alaska in their dividends, failed today in the Senate.
The amendment, offered by Sen. Roger Holland, was an attempt to block wording in a bill by Sen. Bert Stedman that would give the 50-50 split just this year and then step it down in subsequent years.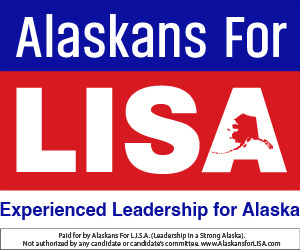 The amendment was voted against by Sen. Josh Revak, who is running for Congress and who cast the deciding vote to prevent Alaskans from being able to vote on the matter and end the ping-pong over the dividend that occurs every year in the Legislature. Also voting against the amendment were Democrats Tom Begich, Elvi Gray-Jackson, Lyman Hoffman, Scott Kawasaki, Jesse Kiehl, and Bill Wielechowski. Republicans Bert Stedman and Gary Stevens joined Revak in stopping the amendment.
Revak headed out of the Senate chambers immediately after the vote and walked down the hill from the Capitol to the Crystal Saloon, where he is holding a fundraiser for his congressional bid.