By ANCHORAGE DAILY PLANET
When you take a look at the staggering list of Forrest Dunbar's union support for his mayoral bid, and realize an attack ad aimed at his opponent Dave Bronson is financed almost entirely by an Outside group, you have to wonder: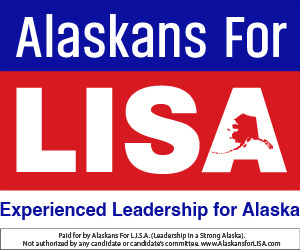 If Dunbar were to win the mayoral runoff election that ends May 11, who is Dunbar really going to represent?
The group behind the ad, "Building a Stronger Anchorage," is actually The Sixteen Thirty Fund. It is based in Washington, D.C., and gave Building a Stronger Anchorage nearly its entire $35,000 campaign war chest, Alaska Public Offices Commission records show.
Who or what is The Sixteen Thirty Fund? Hayden Ludwig, writing in Politico, says:
"The Sixteen Thirty Fund is essentially a subsidiary of Arabella Advisors, a Washington, D.C.-based firm and a veritable Geppetto, the fictional woodcarver and puppeteer whose creation, Pinocchio, involves him in all sorts of mischief.
"Besides offering consulting services to wealthy left-leaning clients, Arabella provides a unique service to the professional Left through four major nonprofits.
"Of these four nonprofits, the Arabella-run advocacy group—the Sixteen Thirty Fund—might be called the darkest of 'dark money' nonprofits."
Good grief. With friends like that….
Golly, if unions, The Sixteen Thirty Fund, and anonymous purveyors of dark money are in love with Dunbar, what possibly could go wrong for Anchorage if he were to be elected?