Garrett Boyle, a legislative aide to Sen. Lisa Murkowski, and Gretchen Fauske, of the University of Alaska, are the two finalists for the federal co-chair of the Denali Commission, according to sources who say that the announcement will be made this week.
Former State Sen. John Torgerson serves as the acting federal co-chair; he was appointed after the resignation of Jason Hoke of Glennallen, who came under scrutiny after an employee filed a sexual harassment complaint against him.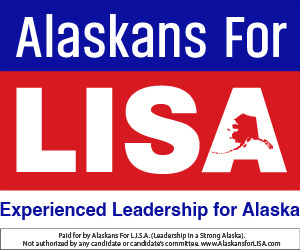 Read: Hoke out at Denali Commission after complaints filed
The Secretary of Commerce appoints the co-chair after consultation with the federal delegation.
The Denali Commission came as a result of legislation championed by the late Sen. Ted Stevens in 1998 and has since been a catalyst for rural development across the state. It helps fund transportation facilities, clinics, fuel storage and assists communities being harmed by coastal erosion.
The appointment is political in nature.
Fauske is the associate director for the University of Alaska Center for Economic Development. She is responsible for leading the entrepreneurship, marketing, and outreach efforts of CED as well as providing strategic leadership for both CED and the UAA Business Enterprise Institute. Prior to joining CED, she worked in the State of Alaska Division of Economic Development, for U.S. Senator Lisa Murkowski, and in the private sector.
Boyle oversees the drafting of legislation and drives the policy initiatives for Murkowski. He also advocates for Murkowski's legislative and policy agenda and is considered her lead subject expert on Medicare, Medicaid, FDA, Social Security, private insurance, the Affordable Care Act, and all other health related issues. He has helped her vet various judicial nominees, including two Supreme Court nominations.
.