After weeks of badgering by Democrats in the Legislature, the rainmaker hired to lead a business development effort for the State of Alaska has decided that the time is right to step aside.
Without saying it in these exact terms, his published statement indicates he can't develop business for Alaska with that many political knives in his back.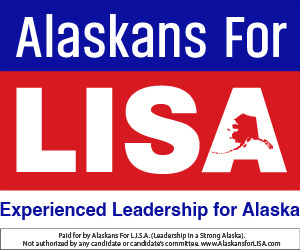 Clark Penney issued a statement on Tuesday morning that thanked the governor for the opportunity to work on his Alaska Development Team.
"Though the goal has been to carry out Governor Dunleavy's mission to work with industry and increase economic activity in Alaska, my participation has become a distraction leading to a challenging environment for my colleagues. I believe in the work the team and I are doing in creating a brighter future for Alaska, but at this time I will be stepping away from this contract effective immediately.  My hope is the good work we started will continue, Penney wrote.
Penney continued: "Alaska is my home and passion.  Everything I have done in this position is about giving back to the place I grew up and will raise my family.  There are significant projects worth millions of dollars, we are removing barriers to doing business and creating relationships with industry.  I leave knowing I helped move this forward as a member of the Alaska Development Team.  I am confident they will finish the job.  Serving Alaska has been a true honor."
He thanked the governor, the team at the Alaska Industrial Development and Export Authority, and his fellow ADT colleagues, and said his company, Penney Capital, would continue to support the governor's private sector growth initiatives from the sidelines.
Penney, who runs a successful business and by most estimations did not need to take the Dunleavy contract for the money, was singled out by Democrats and the mainstream media because his grandfather Bob Penney was one of the more prominent supporters of the Dunleavy campaign for governor. Democrats saw that as a soft place to put the knife as they attempted to show that it was a quid pro quo arrangement. They wanted the contract to be put out to bid, rather than sole-source.
The contract, which totaled less than $100,000 a year, has become the object of fascination by Democrats and the mainstream media, who showed no such interest in the millions of dollars spent by the previous administration in contracts for a nonexistent Alaska gasline.