TUCK AND TARR LEAD CHARGE AGAINST AMERICAN HERO
House Democrats today objected to the swearing in of the first African-American military hero in the Alaska House of Representatives.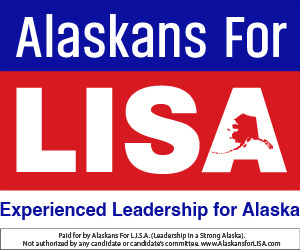 Sharon Jackson, who served in the U.S. Army, and was also a military and veterans liaison to U.S. Sen. Dan Sullivan, was rebuked by the House Democrats, with Rep. Chris Tuck and Geran Tarr leading the charge to block her from being seated in the Alaska House.
Lt. Gov. Kevin Meyer presided over the first two hours of the House. During much of the time, the chambers was in an at-ease, and members gathered to discuss procedures.
Democrats claim that Lt. Gov. Meyer doesn't have the authority to swear in Jackson. That job, they say, goes to the Speaker Pro Tem, whom the Democrats and Republicans must elect.
But there's nothing in Alaska Statute about swearing in. The swearing in ceremony is a formality, not addressed in Alaska law.
Democrats don't want Jackson to be able to vote. They know they cannot win but seeking to create a bargaining chip to force their choice for Speaker Pro Tem.
Gov. Mike Dunleavy nominated Jackson to fill the vacant Alaska House of Representatives seat for the 13th District, Eagle River.
The statutes that are relevant to Jackson are:
15.40.320, which talks about how once there is a vacancy how someone is appointed. It says the governor has 30 days to appoint someone of same party and same district who vacated the office.
15.40.330, which refers to the confirmation of the appointment. The only legislators who have a role in the process are the members of the body of the same party as that who nominated the person.
That means the Republicans. Tuck, Tarr and the Democrats have zero statutory authority or role under the law.
14.40.340, which refers to the date of office of appointee. If the appointment is subject to confirmation, which this one is (by House Republicans), the term shall begin on the date when the appointment was confirmed.
That day is today.
In the Capitol, Republicans were heard asking, "Can you imagine the uproar if our side had blocked the seating of an African-American Democrat?"
Meyer recessed so that he could get the rest of the members signed in on the first day, largely a ceremonial process, and it allows for a cooling off period.