He's 23 years old and he's going big — up against an expert campaigner and veteran of the Legislature.
David Nelson today announced his run for the Alaska House of Representatives, challenging incumbent Rep. Gabrielle LeDoux in the Republican Primary for District 15.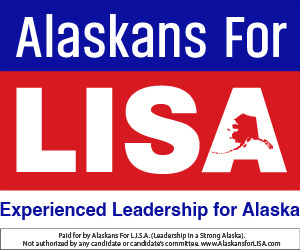 If he wins, Nelson will be the youngest legislator in Alaska.
During their annual meeting on Feb. 17, District 15 Republicans adopted a resolution withdrawing support from LeDoux, who has held the seat since 2012. Part of that resolution was that the district would recruit a new candidate to run against LeDoux. Nelson is the result of that vetting process.
The district resolution will be forwarded to the party's state convention in April for the consideration of the entire party. Two years ago, LeDoux was sanctioned similarly, but won her reelection in the district she has represented since 2012.
Nelson, a former staffer for U.S. Sen. Lisa Murkowski, works for a military contractor with the Missile Defense Agency on Joint Base Elmendorf Richardson, and is the former District Executive for the Great Alaska Council of the Boy Scouts of America. He is an officer in the Army National Guard and was state director for Students for Rubio in 2016.
Nelson announced his candidacy on the Dan Fagan Show on KENI radio. His Facebook page was created today and he will file with the Alaska Public Offices Commission this afternoon.
"My neighbors and I have had enough of the never-ending mess in Juneau," he said. "It's time to elect new people in the Legislature who will crack down on crime, stop playing politics with our Permanent Fund dividend, reject reckless and wasteful new tax plans, and get their work done on time without resorting to costly, lengthy and pointless special sessions."
His community involvement is substantial for a young candidate: He's president-elect of the Anchorage Midtown Rotary Club, is a leader in the Northeast Community Council Safety Patrol, and was appointed to the Alaska Juvenile Justice Advisory Committee.
LeDoux in 2015 was a member of a breakaway group of Republicans that called themselves the Musk Ox Coalition. That group was responsible for the House Republicans losing control to the Democrats in 2016, which ended 20 years of Republican control.
In 2019, she left the Democrat-led majority but did not rejoin the Republican minority.