By DAN FAGAN
It's easy to drift away from believing what's real, with all the lies, half-truths, and propaganda swirling around us.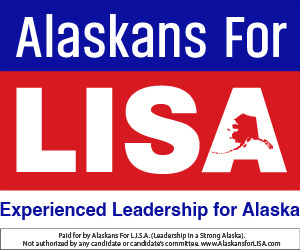 Without even realizing it, it's common to fall for the constant deception, a little at a time. Before we know it, we've accepted so many things as true that are not.
On Saturday, Ron Gillham, Republican state representative from Kenai, posted something on Facebook revealing how far from truth we've drifted, thanks to the fake news media, and liberal bloggers redefining reality.
Reading Gillham's post felt like having cold water splashed on your face when first waking.
Media elites, Democrats, and Republicans-in-name-only insist Alaska is in the middle of a fiscal crisis and about to fall off a financial cliff.
They claim the only way out is to either raid the Earnings Reserve Account of the Permanent Fund, obliterate Big Oil's bottom line with new investment-killing taxes, or go to war with the state's private sector economy and workers, with new taxes on personal income.
They also swear government has been cut to the bone after legislators slashed 40 percent from the state budget in recent years.
But according to the think tank the Alaska Policy Forum, that 40 percent figure is nothing more than a myth.
"While legislators float the idea of creating personal taxes, research from the Alaska Policy Forum finds there have been no substantial cuts to Alaska State spending totals in nearly a decade," APF reports.
APF found state "expenses have simply been redistributed and paid from different state funds." APF describes state leader's actions as "fancy accounting instead of meaningful decreases."
But facts mean little in the world of liberal bloggers and media types serving the Juneau Swamp. Keep repeating the lie and soon enough people will assume it's true.
What's actually true and rarely reported is Alaska spends more per capita on state government than any other state. Alaska also has the second highest per enrollee Medicaid spending in the nation. And only four other states spend more per pupil on education than Alaska and yet the state has some of the lowest testing scores in the nation.
Alaska has an out-of-control spending problem and not enough state leaders have the courage to stand up to the power brokers that be and do something about it.
Gillham gets it and with his Saturday Facebook post offered up a dose of reality and brought us back to a starting point. His ideas show how far we've allowed the media, Democrats, and Republicans-in-name-only to cause us to drift away from truth and reality.
"The (House) majority keeps asking what it is you want?" posted Gillham. "Well, here is my list."
Gillham first called for "A full statutory dividend and the back pay of what was taken out of past dividends, all paid out of the earnings reserve account, where it remains a pass-through dividend and does not become an appropriation. "
Gillham's call for following the statutory formula is clearly a reflection of what most Alaskans want. The promise to do so is what got Gov. Michael Dunleavy elected governor in the first place.
How quickly so many were willing to abandon their starting point and cave to special interests and big-government elites.
Gillham also called for any proposed changes to the dividend, or any new taxes must first be approved by voters.
He wants a 15 percent cut across the board from all departments.
Gillham wrote there should be no state funds for abortions and leaders should pass a constitutional spending cap.
For dessert, Gillham threw in the idea of moving the legislative session to the road system and out of Juneau.
The capital city's eco system gives a decided home field advantage to lobbyists, labor union bosses, nonprofit cabal types, and the connected.
What's startling and eye-opening about Gillham's post is it illustrates how far freedom-loving conservatives have drifted from their original starting point.
It's typical for conservatives to cave once organizations like The Anchorage Daily News, KTUU, and Alaska Public Media redefine reality.
But most Alaskans support Gillham's proposals. One day, they might just get their way.
Dan Fagan hosts the number one rated morning drive talk show in Alaska on Newsradio 650 KENI.