The unofficial results are in for Tuesday's election in Palmer: Steve Carrington and Pam Melin, both Republicans, won three-year seats on the Palmer City Council. The results are expected to be formalized at the Oct. 11 meeting of the City Council.
Coming in third was incumbent undeclared Julie Berberich, and Democrat Lee Henrickson came in fourth. Turnout was 14.2 percent of eligible voters.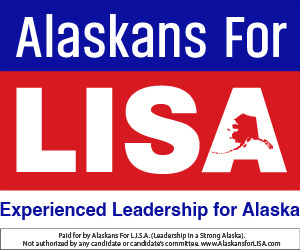 Carrington has served four terms for the City of Palmer, starting in 2001-2005, and 2013-2019, again in 2019- 2021.
Berberich's replacement, Pam Melin, has served on the Planning and Zoning Commission. The council is made up of six members, with three of them considered conservative; one Democrat and two Undeclared registrants make up the rest of the council.
Palmer Mayor Edna DeVries is running for Mat-Su Borough mayor against Matthew Beck. Former Wasilla Mayor Bert Cottle has withdrawn. DeVries' term as mayor ends in October, 2022, which may necessitate a special election for mayor to complete that term.
The Mat-Su Borough election is Nov. 2.