The Anchorage Municipal Charter calls for a special election to be held 90 days after the mayor's seat becomes vacant. An Assembly work session on Thursday will lead to a vote next Tuesday on whether that election will occur.
"A vacancy in the office of mayor shall be filled at a regular or special election held not less than 90 days from the time the vacancy occurs," the Charter reads.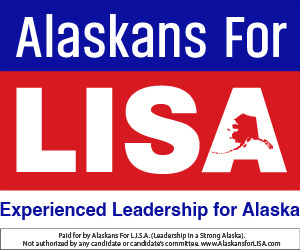 With Mayor Ethan Berkowitz resigning effective Oct. 23, that means after Jan. 21, Anchorage residents should be allowed to vote on a temporary mayor, one who will serve until July 1, when the mayor-elect from the regularly scheduled April 6 election takes office.
It's not that simple, of course, but if there is no special election, Acting Mayor Austin Quinn-Davidson, who was elected to her Assembly seat in District 3, Seat E with 7,440 votes, could rule over the city for eight months.
That's 7,440 votes from an election that saw a total of one-third of voters — 71,382 Anchorage voters — casting their ballots.
Just 10.4 percent of the voters cast a ballot for Quinn-Davidson in the 2020 election, and yet, she will be their mayor.
As the Associated Press put it, "Anchorage, Alaska chooses 1st woman, openly gay acting mayor."
Not exactly, of course. Voters did not choose Quinn-Davidson to be mayor. A fraction of them chose her to be their district representative.
Getting an election done before April is an aggressive schedule made more complicated by the mail-in election that Anchorage has adopted after the Anchorage Assembly approved an all-mail-in method, starting with the 2017 municipal election. Mail-in elections are more time-consuming and labor intensive.
They cost more, too. A special election could cost the taxpayers more than $300,000.
The Assembly has no time to lose to give the Municipal Clerk the time she needs to roll out a special election. But as much as it seems to be clear in the Municipal Charter, here's what the Municipal Attorney Kate Vogel has to say, in her memo to the Assembly:
"The Anchorage Municipal Charter requires the Assembly to fill the vacancy in one of three ways: (1) through a special election to be held on or after Thursday, January 21, 2021 to elect a new mayor to serve until June 30, 2021; (2) through a regular election to be held on April 6, 2021 to elect the next mayor who would take office on July 1, 2021, similar to past practice; or (3) through the regular election to be held on April 6, 2021 but seating the successor at some earlier date to be provided in Code. (This requires a simple Code amendment, which should be adopted soon if this option is desired.) The Chair of the Assembly will serve as "Acting Mayor" in the interim, and return to the assembly as chair once the successor mayor has taken office. Performing as acting mayor does not create a vacancy in the assembly chair's elected seat," Vogel wrote.
In a normal election, the Anchorage Division of Elections mails out ballots three weeks prior to the election deadline day. Voters must have their ballots in the mail or in secure drop boxes by that day — this coming year that day is April 6.
If a special election is held after Jan. 21, the Municipality would have to mail ballots in early January, and that means the ballots would need to be printed in late December.
Backing up the calendar, it means the application process for candidates would need to open and close in December — it's a two-week filing period — and that also requires public notification in the newspaper of record, which would need to happen close to the application period. December would be a busy time for the Municipal Clerk's office.
City Attorney Kate Vogel has now given the Assembly wiggle room by saying that the Muni "can" rather than "shall" have an election. It's the Assembly's choice, she said in her memo to the members.
Finally, the provision states that the vacancy can be filled at either a regular or a special election, Vogel wrote.
In other words, according to attorney Vogel, the Assembly can do whatever it wants, in spite of what the charter says.
If incoming acting mayor Austin Quinn-Davidson, who is currently the subject of a recall, gets her way, she will be acting mayor for more than 17 percent of the elected term of office for now-disgraced Mayor Ethan Berkowitz.
Adding to the confusion is that the filing packets for candidates for the April election will be posted on the Muni website on or around Dec. 1, 2020, giving them 45 full days to get their application filed. For the regular election, filing for office opens Jan. 15 and closes on Jan. 29, right on top of the special election window.
The Assembly is on a very tight timeframe for getting a special election done, but is showing no sense of urgency. Will the Assembly follow the law or find a way to circumvent it?