Robin Brena, the architect and funder behind the failed oil-tax hike in 2020 known as Ballot Measure 1, poured $4,000 into the Alaska Democratic Party in the final days of the Anchorage mayoral runoff.
The funds will be used to "get out the vote" in in the election that will decide if Forrest Dunbar, a Democrat, or Dave Bronson, a Republican, will become mayor of Anchorage.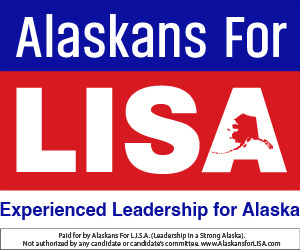 Brena, a business partner and transition team oil-tax adviser to former Gov. Bill Walker, put over $400,000 into Ballot Measure One, in addition to paying signature gatherers to get people to sign the ballot initiative. It failed with voters 58-42 in November.
A regular Democrat supporter, Brena had already given the maximum allowed by law to the Dunbar campaign in early January. Must Read Alaska has learned the $4,000 to the Alaska Democrats will be used for text messages to Democrats in Anchorage who haven't yet voted.
The Anchorage Municipality has also announced free bus service on People Mover on Election Day, ostensibly to help the Democrat vote.
The Alaska Republican Party appears to be working on its own get-out-the-vote strategy, and has reported $21,535 in its seven-day report to be used for the municipal election. This, too, appears to be focused on getting voters to find their ballots in their stack of mail and to vote them. The Republican Party typically stays out of local races as a policy but will work on getting out the vote in some races.
A private group, Conservatives for Bronson, has dump trucks adorned with Bronson signs focused on the Eagle River area, where conservatives have been reported to be hanging onto their ballots. A number of conservatives express continued mistrust of the municipality's vote-by-mail security and the Bronson campaign has put a focus on that area, including a massive rally on Thursday.
Read: Over 500 turn out for rally in Eagle River
The amount logged in as a contribution to the Conservatives for Bronson account is over $91,000, most of it coming from McKenna Bros. as a non-monetary contribution of the trucks and their drivers.
Secure drop boxes for ballots are located at:
For those needing to vote in person for any reason, you can vote at If you need assistance voting, or if you need to replace a lost or damaged ballot, or if you didn't receive a ballot, please protect our community in the public health crisis and call 243-VOTE (8683).
If the April 6 election is any indication, lines could be long at the three in-person voting centers on Tuesday.
Locations:
City Hall
632 West 6th Avenue, Room #155
Weekdays, May 5 – 10, 9 a.m. – 6 p.m.
Saturday, May 8, 10 a.m. – 4 p.m.
Sunday, May 9, noon – 5 p.m.Election Day, May 11, 7 a.m. – 8 p.m.

Eagle River Town Center 
12001 Business Boulevard, Community Room #170
(same building as the library)
Weekdays, May 5 – 10, 9 a.m. – 6 p.m.
Saturday, May 8, 10 a.m. – 4 p.m.
Sunday, May 9, noon – 5 p.m.
Election Day, May 11, 7 a.m. – 8 p.m. 
Only Chugiak-Eagle River ballots will be available at this location. 

Loussac Library3600 Denali Street, First Floor, Assembly Chambers
Weekdays, May 5 – 10, 9 a.m. – 6 p.m.
Saturday, May 8, 10 a.m. – 4 p.m.
Sunday, May 9, noon – 5 p.m.
Election Day, May 11, 7 a.m. – 8 p.m.
At Anchorage Vote Centers services: Voters can vote in person, return a mailed ballot, replace a lost or damaged ballot, receive a ballot package if they didn't receive one in the mail, receive voting assistance, or get help with other voter questions. Voters who are voting in-person or requesting a replacement ballot will be required to show identification.
For voters who wish to vote at home and didn't received a mailed ballot, please call the Voter Hotline at (907) 243-VOTE (8683) for a replacement ballot. Replacement ballot requests must be received no later than 5:00 p.m. on Tuesday, May 4, 2021, to allow sufficient time for mailing.
Voted ballots being returned by U.S. Postal Service mail must be postmarked no later than Election Day, May 11, 2021, and received by noon May 21, 2021. If mailing during the last 48 hours of the election, ask a postal official to hand-cancel/ hand-stamp the envelope with a postmark.