Rep. Gary Knopp, who represents Kenai as a Republican legislator, was sanctioned by the Alaska Republican Party State Central Committee today in Kenai.
On a motion made by Jason Floyd, District 30, the party agreed to withhold party support, including financial, and to recruit a Republican primary challenger to oppose him. Two people have already filed to run against him as Republicans.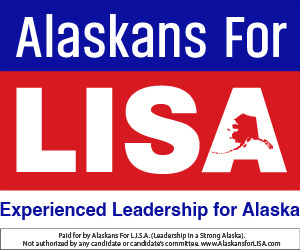 The voice vote was unanimous. It came minutes after Knopp stood to defend his record of having created a Democrat-led Majority in the House and said that it had led to successes.
"This House [majority] has succeeded," he said. "If I'd not created the coalition…" he said, the House would still not be organized.
Floyd then stood and said that Knopp had just admitted to being responsible for creating the Majority that disenfranchised the people who had elected him.
Myranda Walso, a bonus vote for District 13, was not impressed. She stood to remark, "We saw for first 30 days, the House was unable to organize. When finally they were organized, they were unable to get any of their business done. They did not pass budget. Did not pass crime bill. If the mark of success is whether you are able to get it done…" she said, then this House Majority has failed. "We need to send a message."
This Facebook Live video is the resolution and vote. Note that Rep. Knopp is in the audience:
A few minutes later the approximately 60 people present voted to support the motion. It is similar to the sanctions made for Rep. Gabrielle LeDoux and Rep. Louise Stutes, who abandoned the Republican Majority years ago, but continue to run and serve as Republicans.
[Read: Trouble for Knopp: Two opponents, possible party sanctions, a recall]
After the meeting took a break, Knopp told people present that every charge made against him was a lie. Floyd said that every charge made against him was based on video documentation that has been widely viewed.