VENDETTA AGAINST KRINER'S DINER STEPS UP, LAWSUIT FILED
While today Mayor Ethan Berkowitz's administration filed three lawsuits against the owners of Kriner's Diner for remaining open against his orders, other restaurants say they are going to join the restaurant resistance.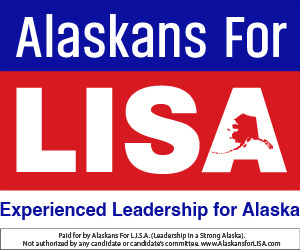 Wings and Things announced today that it would open on Thursday, in defiance of the mayor's Executive Order 15, which shutters all restaurants, bars, and bingo halls to indoor service. Little Dipper Diner said it would open as well.
Kriner's Diner, at C Street and Fireweed, will be slapped with $1,800 in fines for the three days it has been open. The mayor's attorney Kate Vogel says the owners of the diner and the other restaurants are committing a class B misdemeanor.
"We are taking those actions quite seriously and we have a menu of enforcement options at our disposal," Vogel told KTUU.
However, the mayor's lawsuit against the couple that owns the restaurant was filed in civil court with no criminal charges.
There were 38 new cases of COVID-19 diagnosed in Anchorage on Aug. 4, the latest number available. Statewide there are 2,407 active cases of the coronavirus. Some 1,017 Alaskans have recovered from the illness, and 25 have died from it.
On Wednesday, a large crowd of supporters lined C Street in front of the diner with placards of support for the small business, whose co-owner Andy Kriner told Must Read Alaska that he is just trying to pay his rent and employees.
The support for the diner seemed to just grow, upon the news that the Mayor's Office has stepped up the vendetta against business owners.
"We have more important things the city can be doing with our property tax money. This is nothing more than our mayor's deaf ear to what his constituents want, said former Rep. Charisse Millett of Anchorage. "So frustrating."
Kriner said he was engaging a lawyer, or perhaps lawyers. "I'm going to need a few of them, I think," he told MRAK. Supporters were putting him in touch with some who may take the case pro-bono, for the constitutional question at hand. He indicated that people were coming forward with funds to help him with the city's fines.
The city has asked for expedited consideration of a motion for a temporary injunction and request for a hearing. Judge Josie Garton has been assigned.
Meanwhile, Little Dipper Diner has also been fined for being open against the mayor's orders.