CAMPAIGNING ABOUT CRIME NOW?
A mayor's press conference using both Gov. Bill Walker and Anchorage Police Chief Justin Doll as campaign surrogates was staged in the Governor's Office on Friday morning.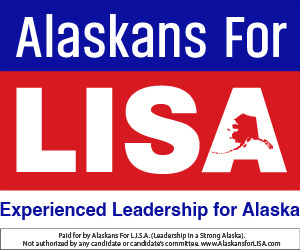 Some saw it as a last-minute campaign stop for Mayor Ethan Berkowitz, who is being challenged by a law-and-order candidate, Rebecca Logan.
Berkowitz and Walker announced a partnership between the Anchorage District Attorney's Office, the Municipal Prosecutor's Office, and the Anchorage Police Department that involves moving employees around. Two APD officers will be reassigned from stopping crime to helping prosecutors with investigations.
"Public safety is our top priority, and we are finding new ways to cooperate across state and municipal lines for the benefit of all Anchorage residents," Berkowitz said. "This effort is made possible by the growth of the Anchorage Police Department, and the willingness of the prosecuting agencies to adopt innovative solutions in the face of the state fiscal crisis."
With both the governor and police chief as props, the focus was actually on prosecutions, rather than arrests.
"It's a good day to sign an agreement like that," Walker said, "and advance our mutual goals of protecting Alaskans, so thank you very much, Mayor Berkowitz."
"These positions will improve the quality and efficiency of our investigations, making Anchorage safer," said Chief Doll.
A state-funded municipal prosecutor will also be made a special assistant district attorney for these prosecutions. "
Expanding the capacity of the state's prosecutors in Anchorage is a good step to hold bad actors accountable, protect survivors, and use our resources efficiently — a mutually beneficial plan to reinforce the strength of our justice system and build a safer Alaska," said Attorney General Lindemuth.
[Watch the press conference here and decide for yourself if it is a campaign event]
WILL IT WORK?
Berkowitz may have a clear shot at re-election, which is why he seemed unconcerned about appearing with a governor whose re-election prospects are less than certain. But it was clear to radio talk show host Dave Stieren that this was all about the Tuesday election deadline.
"They start the fire in your home, watch it burn, then try to put it out, and tell you they're doing you a favor. I call BS," Stieren wrote on Facebook. Others agreed, with most comments on Berkowitz's Facebook page saying that it was "too little, too late."
"They had to televise the fact that all of these public paid offices charged with protecting citizens and 'keeping the peace' are suddenly going to actually do the jobs they were ALL hired to do? What's next, cake, ice cream and balloons for these buffoons?" said one commenter.
"You have done a great job….giving criminals rights and not protecting the law abiding citizens. Raising taxes, stealing the PFD, growing government I can't wait till you are GONE! You have served yourselves well!" another offered.
Even the ACLU's communication director and former Alaska Republican Party communication director Casey Reynolds agreed with Stieren:
"Justin Doll says APD doesn't get involved in campaigns? This is clearly a campaign event to help Ethan get re-elected Tuesday. There are plenty of examples from Berkowitz' campaign Facebook page of Doll politically schilling for the Mayor. Like this one:" – Casey Reynolds
Reynolds provided other examples of blatant use of Anchorage's top lawman in the mayor's reelection: