Mitigation efforts for the Hiland Road avalanche are complete and were successful, the Anchorage Mayor's Office reported late Sunday afternoon. Those who were evacuated from the area will be allowed back to their homes, but officials urge caution and advised people to stay away until more work is done.
Although no more avalanche snow has reached Hiland Road or the homes along it, the road is still buried in snow and it will take as long as two weeks to remove the snow and debris to make the road passable.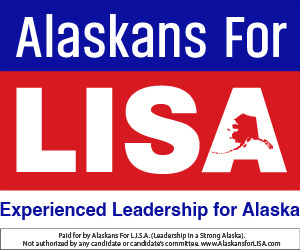 Significant risks remain in place until snow clearing operations are complete, the Mayor's Office said.
People are still needing to access their homes via a snow machine and foot trail that is being used, as well as an historic road that has been somewhat overgrown with alders in recent years. One four-wheel road was rough cut through an area on Saturday to provide another access point. Some people have been walking to and from their homes using established trails in the ravine below the avalanche.
Among those trapped behind the avalanche were a group visiting from Indiana, who had been staying at a rented vacation home past the avalanche area. They hiked out through the ravine in tennis shoes, according to officials who were on the scene. "It was quite a scene," one said.
Maintenance crews will begin work to remove snow starting Monday, contingent on safety assessments, which will be made daily.
The Salvation Army set up a food truck near to the point where people were being evacuated, offering hot chili, coffee, and other snacks. Some elderly residents came out on sleds pulled by snow machines and were greeted with a hot cup of coffee by Salvation Army volunteers.
Roughly 100 city employees, including police, fire and rescue, and maintenance and operations personnel, as well as volunteers from Alaska Mountain Rescue were at the site today working through the problem of how to evacuate people and how to safely bring down the remaining snow slab. At this time, no lives are believed to have been lost in the avalanche, which occurred late Thursday night.
Assemblywoman Jamie Allard went by snow machine to talk to residents whose homes were isolated by the slide and she and other volunteers helped them load up some of their possessions and convinced others to leave the area for the afternoon.
After the cornice released above the avalanche, no major slide occurred on Sunday and no homes have been destroyed, a risk that had been explained by officials before the blasting occurred.
Assemblywoman Crystal Kennedy also visited with some of the neighbors but was not able to assist them in leaving as she is recovering from shoulder surgery.
Allard and Kennedy, who represent Eagle River on the Assembly, released a statement thanking the community and the city for its cooperation.
"[Jamie] Allard and [Crystal] Kennedy would like to thank the Bronson Administration, the Municipality of Anchorage including Municipal Manager Amy Demboski, the Anchorage Fire Department, the Anchorage Police Department, Office of Emergency Management, Building Services, Department of Law, Parks & Rec, and the Chugiak Birchwood Eagle River Rural Road Service. From the State of Alaska and other local partners, we thank Governor Dunleavy, the Department of Transportation, the Department of Public Safety, Alaska Railroad, Alaska Mountain Rescue, Salvation Army, American Red Cross, the National Weather Service and a myriad of volunteers," their statement said.
"The amount of caring concern for neighbors and the constant vigilance over each other was truly inspiring. The residents went above and beyond to make the best of a stressful and dangerous situation," the statement from Allard and Kennedy said.
"The number of agencies and people engaged in handling the challenges of a very large and unprecedented event in our community was impressive," Kennedy said.
"The Hiland residents supported each other through what started as an incredibly scary event that could have turned to a very tragic event but now has turned into a happy ending and they should be proud of how they handled it all," Allard said.
Another weather system is expected late Sunday night and will bring more snow to the Eagle River area, according to Municipal Manager Amy Demboski.