By SCOTT LEVESQUE
As protesters lined the library grounds, chants of "Open up," and "Let us in" rang through the crowd on Tuesday night.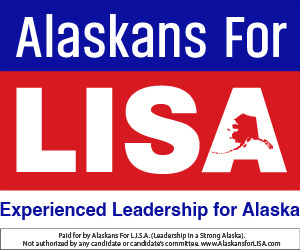 Assembly member Jamie Allard, who entered through the library building's side doors, was met with thunderous applause, but most notable was the absence of every other Assembly member, including Mayor Ethan Berkowitz.
Word quickly spread that many of the Assembly members had entered through the back doors, including the mayor, who was swiftly ushered in under guard, while wearing a black mask.
The protest immediately moved to the library's back entrance as the doorway closed shut. When questioned, library staff refused to allow access into the building, citing capacity limits.
Undeterred, the crowd let out a chorus of "Let us in! Let us in! Let us in!" which reverberated throughout the shallow back entry. Vehicles parked around the library began honking their horns as if orchestrated by legendary composer Howard Shore. Meanwhile, things were heating up in the Assembly Chambers. 
Assembly Members Christopher Constant and Suzanne LaFrance introduced floor amendments to AR 2020-296, a resolution introduced by Assembly Member Jamie Allard and Crystal Kennedy to open the Assembly Chambers to public testimony and participation.
The changes made by Constant and LaFrance essentially hijacked the resolution and relegated all public participation to email or telephone, a death blow to the public's right to testify in front of the Assembly. 
The protest settled on the lawn in front of 36th Street, where the crowd waved signs, flags, and hands at oncoming vehicles. Many were showing their support by honking while they drove past the large group, which numbers in the several hundreds.
Speeches by a few, including Dave Bronson, electrified the crowd as calls for liberty and freedom rang true among the protesters. But inside the Assembly Chambers, deliberations around AO 2020-66 intensified.
Many Assembly Members thanked those who publicly testified, but in the end, those testimonies fell on deaf ears.
In what can only be considered a landslide, the Assembly voted 9-2 to approve AO 2020-66. Assembly Members Jamie Allard and Crystal Kennedy of Eagle River were the two "no" votes. 
With tonight's approval, the municipality can move forward in acquiring four properties with CARES Act funds for homeless services. The only roadblock left for the Berkowitz Administration is a call with the U.S. Department of the Treasury, which the Treasury's Inspector General has requested due to the number of complaints received about the use of the CARES Act funds. 
By 11:15 pm, there were still dozens of protesters outside, some of them in their vehicles driving in circles in front of the building and honking their horns. Police came by and told them to tone it down. The meeting was set to end at midnight, and protestors appeared determined to stay until the Assembly members gaveled out and were heading to their cars.