Former Sen. Anna MacKinnon has been named the director of the Alaska Permanent Fund Division, the agency in charge of determining who is qualified to receive the annual dividend that is paid to Alaska residents from investment earnings of mineral royalties.
MacKinnon had been serving in the Department of Revenue in a special assistant position appointed by the governor. During her time in the Senate, she had served as co-chair of Senate Finance. She also served in the House for several years. Formerly of Eagle River, she now lives in Juneau with her husband, John MacKinnon, who is the commissioner of Transportation and Public Facilities.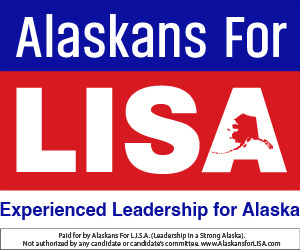 The annual dividend payment allows for Alaskans to share in a portion of the State minerals revenue in the form of a dividend to benefit current and future generations.  Eligibility to receive a Permanent Fund Dividend is defined by the Alaska Legislature through statute and regulation. 
The statutory dividend calculation is based on the number of eligible Alaskan applicants in a dividend year and half of the statutory net income averaged over the five most recent fiscal years. The available funds are also reduced by prior-year dividend obligations, PFD operation expenses, and other state agency program appropriations. But the Legislature has broken the law for several years and arrived at an arbitrary number. So far, this year, that number is zero, because the Legislature approved $525 and the governor vetoed that amount, calling it an insult to Alaskans.  
The division is completely separate from the Alaska Permanent Fund Corporation, which is responsible for investment of the fund's principal balance.