The 49th State Angel Fund had a problem: Too many of its investments were going to white people.
It has addressed that problem by creating a new fund focusing many of its available dollars on a race-based formula for Alaska entrepreneurs.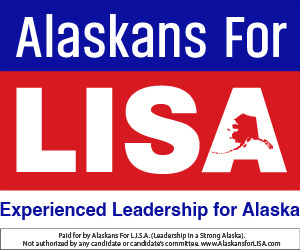 The fund, owned by the Municipality of Anchorage and seeded with $13.5 million in U.S. tax dollars, launched a "Building Equity Co-investment Fund" that will match investments made in Alaska minority-owned companies.
That means for every dollar a minority entrepreneur can raise from another source, the municipal fund will match it.
To create the fund, the 49th State Angel Fund took money from other investment funds under its management.
The new "Building Equity Co-investment Fund" has a stated preference for applications from businesses owned by Black, Indigenous and People of Color (BIPOC).
Those business owners are also eligible to apply for the other half of the funds in the program. And to make it work, for every dollar invested in a white-owned business, the fund has a rule that it must invest an equal amount in a minority-owned business. But there is no such cap on minority businesses.
The term BIPOC is often loosely defined, but generally excludes fair-skinned redheads and may or may not apply to those of Asian descent. Not a universally embraced term, a number of Indigenous leaders around the continent bristle at being lumped in with other minorities in the "BIPOC" acronym because they feel it diminishes their First People status.
Alaska is populated mainly by those of European or Asian/Hispanic heritage, at over 70%. The next largest racial group is Alaska Natives, at 15.6%. African-Americans make up under 4% of the population.
Ironically, the Building Equity Co-investment Fund is managed by two middle-aged fair-skinned men. In fact, the 49th State Angel Fund advisory committee is largely made up of those with "cooler" skin tone.
Director Baca was hired by former Mayor Ethan Berkowitz, and the director of portfolios, Melanie Lucas-Conwell, is a recent transplant from San Francisco. Or colonist, to use the proper terminology. Both appear to be of European heritage.
The 49th State Angel Fund was also recently given a no-bid contract to assist in choosing recipients for the CARES Act grants for artists.
The municipality set aside $24 million of COVID-19 CARES Act funds for individual artists and the hospitality industry.
Earlier this year, Assembly Chair Felix Rivera's said he would use the CARES Act money to create something called "equity" in Anchorage. He said that if the CARES Act funds for businesses did not address systemic racism, he would not approve them.
When asked by Assembly member Jamie Allard if the municipality had put the the distribution of the artist grants out to bid, or just awarded it to the in-house 49th State Angel Fund, Director Erin Baca rolled her eyes and made faces. Anchorage CFO Alex Slitka jumped in and said having people inside the executive team working together was a factor in keeping it in house.
The Individual Artist Relief Grant is providing $5,000 grants to 100 artists applicants who meet the eligibility criteria. Applications and decisions will are managed by the 49th State Angel Fund, while Cook Inlet Lending Center is cutting the checks, according to Baca.
The grant "supports practicing individual artists who have experienced economic hardship and loss of income from canceled events/sales, residences, workshops, gallery shows, terminated contracts, or job loss due to the pandemic and related emergency orders." The application for the city-awarded grants asked applicants to state their race, but it's unclear if the artist awards were handed out on a quota system.
Assembly member and mayoral candidate Forrest Dunbar suggested that in addition to the race quota on the Building Equity fund, the city also provide free housing for entrepreneurs and he recommended the venture fund work with The Boardroom, a privately owned cowering space, to make that a reality.