Candidates running for local (and statewide) offices had until midnight on Feb. 15 to file their first big cash reports with the Alaska Public Offices Commission.
The "year start" reports, showing campaign money raised last year through Feb. 1, give politicos a sense of how strong the campaigns may be. If this year is a sign, the race for Assembly Seat 5 between Stephanie Taylor and Forrest Dunbar is the one to watch most closely.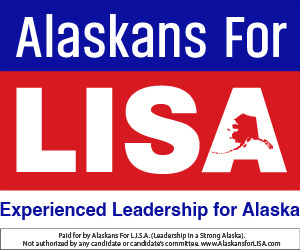 For conservatives, this report is stunning in that many of the Republican candidate are competitive, and this may be some of the most money ever raised by Anchorage municipal conservatives, outside of a mayor's race, especially in an off year.
For example, Rick Castillo, a Republican, filed a year start report in 2021 for $16,000 in his race for Assembly. In 2020, Christine Hill, another Republican, posted a year-start report of just under $20,000 for her Assembly race. This year, the conservatives are raising more money than most legislative candidates.
Some year-start fundraising highlights for the Anchorage Municipal Election, which is April 5:
$109,913 – Stephanie Taylor, a Republican challenging Democrat Forrest Dunbar for Assembly District 5.
$167,414 – Forrest Dunbar, Anchorage Assembly District 5 Democrat incumbent.
– Notable is that in 2019, Dunbar reported raising $37,000 for his year-start report. This year's heftier bankroll indicates Dunbar realizes he has a true contender in Stephanie Taylor, pictured above, who is well-known and respected in the East Anchorage neighborhood. Dunbar has more cash on hand, $144,016 to bring the heat toward the end of the campaign. Union political action committees have poured money in to the Dunbar campaign. Taylor reported having $66,499 on hand before Feb. 1.
$87,245 – Kathy Henslee, a Republican challenging Democrat Meg Zalatel for Assembly District 4.
$50,256 – Anchorage Assembly District 4 Democrat incumbent Meg Zaletel.
– Zaletel recently survived a recall attempt, and spent over $180,000 to prevent being removed from the Assembly. She has $45,000 cash on hand, as of the year-start report, compared to Henslee's $63,000 cash on hand.
$62,178 – Republican Randy Sulte, challenging liberal incumbent John Weddleton for Assembly District 6.
$57,575 – Liberal Anchorage Assembly District 6 member John Weddleton.
– Not only has Sulte raised more money, he has more cash on hand for this south Anchorage seat.
$37,038 – Republican Liz Vazquez, challenging liberal Kameron Perez-Verdia for Anchorage Assembly District 3.
$70,310 – Liberal Anchorage Assembly District 3 incumbent Kameron Perez-Verdia.
– Perez-Verdia has $54,867 cash on hand, while Vazquez, who entered the race in December, has $32,459 cash on hand for the West Anchorage race.
$57.62 – Democrat Gretchen Wehmhoff, for the Eagle River District 2 seat on the Anchorage Assembly.
$15,362 – Kevin Cross, Republican for the Eagle River District 2 seat on the Anchorage Assembly.
– Notable in this race is that the incumbent, Assemblywoman Crystal Kennedy, is nor running for reelection and that Cross just entered the race on Jan. 10; Wehmhoff also entered late.
$46,378 – Democrat Anchorage School Board Seat A incumbent Margo Bellamy.
$71,726 – Democrat Anchorage School Board Seat B incumbent Kelly Lessens.
$12,308 – Republican Rachel Ries, challenging Anchorage School Board Seat B Democrat Kelly Lessens
The April ballot will feature these candidates:
Anchorage Assembly
District 2 – Seat A – Eagle River/Chugiak
Cross, Kevin​ – Filed 01/21/2022
Wehmhoff, Gretchen​ – Filed 01/28/2022
Stephens, Vanessa​ – Filed 01/27/2022
District 3 – Seat D – West Anchorage
Perez-Verdia, Kameron​ – Filed 01/24/2022
     Williams, Nial Sherwood​ – Filed 01/14/2022
Vazquez, Liz​ – Filed 01/27/2022
District 4 – Seat F – Midtown Anchorage
Zaletel, Meg​ – Filed 01/26/2022
Henslee, Kathy – Filed 01/18/2022
District 5 – Seat H – East Anchorage
Taylor, Stephanie – Filed 01/14/2022
Dunbar, Forrest – Filed 01/18/2022
Hall, Christopher​ – Filed 01/19/2022
District 6 – Seat J – South Anchorage
Colbry, Darin – Filed 01/24/2022​​​
Weddleton, John​ – Filed 01/25/2022
     Sulte, Randy – Filed 01/20/2022​
School Board
School Board Seat A
Murray, Cliff – Filed 01/20/2022
Loring, Dan – Filed 01/28/2022
Bellamy, ​Margo – Filed 01/19/2022
Cox, Mark Anthony – Filed 01/24/2022
School Board Seat B
Lessens, Kelly – Filed 01/14/2022
Baldwin, Benjamin R. – Filed 01/18/2022
Darden, Dustin​ – Filed 01/27/2022
     Ries, Rachel – Filed 01/18/2022