By ALEX GIMARC
I had an extended and moderately contentious discussion regarding the new election system with radio host Dan Fagan on his KENI morning show on Monday. Podcast is available here.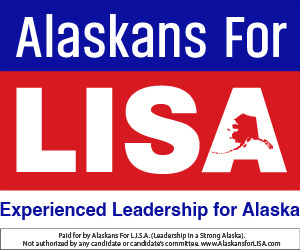 My point was that the new rules around Ranked Choice Voting require Republicans to be one another's best friends during the primary, freeing them to do whatever they need to do in the general. This is now a team sport. 
Fagan's point was that there is no way on God's green earth that Republicans can do that and win a primary, even a jungle primary gifted to us by Lisa Murkowski, Scott Kendall, and millions of Outside dollars.  
Sadly, my argument did not compute with Dan, at least to the point where I got agreement. So, here is another attempt. Hopefully I can do a better job this time around.
Two of the smarter analysts wrote recent pieces on Alaska's new election system, one published, one not. Both pieces emphasized the importance of the jungle primary in the election. Top four vote-getters out of the primary get to play in the general election. It is the general election where the ranked choice process takes place.  
Randy Ruedrich writing a month ago in Must Read Alaska summarized the new process as follows:
"Vote for your favorite candidate in the primary. Rank your conservative to moderate candidate team members on the general election ballot from first to last. A democrat is never your choice."
Glen Biegel wrote an unpublished piece suggesting a similar approach a week or so earlier. His take on the process concentrates on the general election, specifically how to rank your candidates. The first suggestion is to never vote for someone who doesn't represent your core values. Rather, rank them on what you believe your top five or so most important issues are. A 50% match is not a loss.  
The bad news out of all this is that it is a more difficult process, as the party label used as a short cut for selecting candidates is gone. This will be more work for the voter. But it is the new world in which we must operate, at least in 2022, for as long as this system is in place. If it works to elect lots of Democrats, it will be in place for a long, long time.  
So, what happens in the primary? Better yet, how should voters and campaigns approach the primary?
For years, the primary is where conservatives took care of family business, usually taking out the candidate who was farthest from their core values or worked too closely with Democrats. Primaries were full body contact, blunt force trauma affairs, with Republican candidates coming out of the primary bloodied, bruised, and normally out of money. All of these made it easier for the Democrat to win in the general election.
We can't do that anymore. The game today is to get as many people as possible who believe like we do into the general election. A very good day for a Republican race would be for four Republicans to be the largest vote getters in the primary and no democrat make the general election. A very good day for democrats would be for four of them to survive the primary. How to do this is something entirely new, as we haven't run our primary election campaigns this way.  
On a strategic basis, conservative and Republican candidates need to become best friends in the primary, as it is now a team sport.  Save the full body contact routine for Democrats (and no-party candidates like Bill Walker) in the general election. The other thing is that when the ranked choice sort kicks in, it will be the second or even the third-choice candidates who will determine the winner at the end of the day.  We would rather these be someone from Our Side rather than the other.  
This means that campaigns need to operate differently in two very different elections. We can't successfully do what we have been so very good at doing for the last half century in the primary. Failure to do so will open the door for a pair of candidates on the other side to sneak into the general election completely unscathed. There are already rumors of some sort of arrangement between Walker and Democrat Les Gara, which helps explain why they have both gone after conservatives and Republicans, not saying a word about each other.  
The world has changed. We can either get on that train or end up under it. Vote smart. Think of the upcoming election campaign as a team sport. And defeat the other side.
Alex Gimarc lives in Anchorage since retiring from the military in 1997. His interests include science and technology, environment, energy, economics, military affairs, fishing and disabilities policies. His weekly column "Interesting Items" is a summary of news stories with substantive Alaska-themed topics. He was a small business owner and Information Technology professional.