About 60 people showed up at the home of Misty and Doug Massie in Wasilla on Tuesday to raise funds for Kelly Tshibaka, in her run for U.S. Senate against Sen. Lisa Murkowski.
Sources say that about $10,000 was raised for her campaign at the event.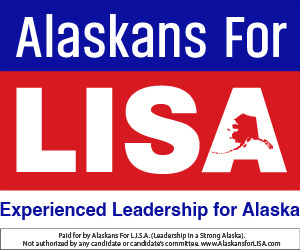 Tshibaka also came away with a new endorsement: The Alaska chapter of Bikers for Trump brought a certificate of support from the club. Tshibaka earlier this month was endorsed by Donald Trump himself.
Tshibaka had to take a break from the meet-and-greet event to go inside the Massie home to tape a national radio show for "Stacy on the Right," which she was able to broadcast live to the people outside the house.
The fundraising quarter ends on June 30, and a few days afterward both the Tshibaka campaign and the Lisa Murkowski campaigns will report to the Federal Election Commission the results of their fundraising since April 1. Tshibaka is already spending money on television and digital advertising even though the primary is more than a year away.
In 2016, Murkowski raised nearly $6 million total to beat Margaret Stock by 15 points in the general election. Stock was only able to raise $740,000.
During the first three months of this year, Murkowski raised about $380,000. Tshibaka, who filed for office just two days before the end of the fundraising quarter, raised $215,000. But Murkowski started the year with more than $1 million in cash on hand in her campaign war chest, and it's doubtful that Tshibaka will catch her this quarter on the fundraising front.
Today, Tshibaka was on a plane heading for Utqiagvik.