Ballot Measure 2 was supposed to make elections less dirty. It does not seem to have done that. Al Gross is pulling out of the race for Congress due to personal reasons, and he is throwing his support to two Native women candidates.
Gross, the third top-vote getter in the special primary election, will drop his name from the regular primary election ballot and throw his support to Mary Peltola, a Democrat, and Tara Sweeney, the Republican who was formerly in fifth place. It's the hope of the Sweeney campaign that she will be able to move into fourth place.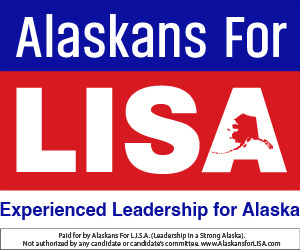 Others appearing on the Aug. 16 ballot are Sarah Palin and Nick Begich.
Gross had received 12.65% of the vote by Friday's count by the Division of Elections. Here's where the leaders were as of Friday:
Palin: 41,302, 27.59%
Begich: 28,859, 19.27%
Gross: 18,936, 12.65%
Peltola: 14,133, 9.44%
Sweeney: 8,671, 5.79%
With Gross leaving the race, that makes three Republicans and one Democrat on the Aug. 16 special general election ballot, which will be decided by ranked choice voting.
The reasons for Gross' sudden departure are unclear. Word is that former staffers from his 2020 campaign against Sen. Dan Sullivan have turned on him and are providing material that could be used for blackmail. Politicos say that political operative, lawyer, and author of Ballot Measure 2 Scott Kendall, who is part of the team supporting Sweeney, is behind the entire operation. Kendall has threatened a lawsuit over this crossed-through statement unless it is retracted and an apology is issued. In the interest of the solvency of Must Read Alaska, an apology is issued and the statement is retracted.
Gross had returned from a trip to Asia after the death of Congressman Don Young, and quickly joined a crowded field of 47 other candidates who hoped to replace Young.
He filed as an nonpartisan candidate and pledged to caucus with the Democrats. But his fall from grace may be a combination of the dislike of him by the the Alaska Democratic Party, and an opposition research file on his personal life by some other campaign group.
Gross, who is a surgeon by day, ran for Senate against Sen. Dan Sullivan in 2020. He had been savaged by the Alaska Democratic Party after losing to Sullivan; the party endorsed Chris Constant and Mary Peltola.
Gross had just been endorsed by IBEW 1547 on Friday, and had started raising money through an aggressive social media-based campaign to beat Sarah Palin over the weekend. He was also at a brewery over the weekend, taking pictures and posting them on social media. It appears that his campaign melted down quickly after that.
Whether Sweeney can actually be slipped into the top four is unclear. Ballot Measure 2 says that the fifth candidate can only be put in the final four if the withdrawal of one of the four happens within 64 days; it may be that Kendall thinks he found the loophole in the law that he wrote and that voters approved in 2020.
The Department of Law will be reviewing the matter on Tuesday, MRAK has learned.
The Division of Elections will be conducting the final count of ballots in the special primary election on Tuesday, June 21, and plans to certify the election on June 25. What is now uncertain is what may happen if there are lawsuits over the ability of Sweeney to join the final four that will appear on the Aug. 16 ballot.
Gross' statement to the media: