Dr. Anne Zink, the state's chief medical officer, said the Omicron variant is in Alaska, and cases of Covid-19 are on the rise. According to the state variant dashboard, Delta variant remains the dominant strain in Alaska, although the data lags by several weeks.
For Jan. 5-6, 3,640 new cases of Covid were diagnosed in Alaska, there was one new death reported and 70 total hospitalizations.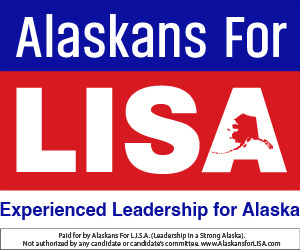 "Thankfully, we do expect in general to see more mild disease with Omicron, both because of the nature of the virus as well as many Alaskans either being vaccinated or previously having had COVID," she wrote on Twitter.
She said that hospital capacity remains stable and the state continues to work with hospitals through the surge. Depending on a person's underlying condition, the new variant may be mild or serious, but with more vastly more cases come at least some increase in hospitalizations.
"Both testing and treatments options have become more limited through this surge and we continue to work with communities to improve access given limited supplies and increased demands. Layered prevention helps protect against severe disease, and if you are ill, talk to your provider about treatment options," she wrote. She did not say what treatment options are effective or available, and she advised people to get up-to-date on their vaccinations to protect against serious disease.
One aspect of Omicron that is being discussed in research circles is that people with previous immunity from a Covid infection or from a vaccine appear more vulnerable to Omicron than to the Delta variant, which appears to be on the wane.
As for treatments, monoclonal antibodies are used in some of the major population centers in Alaska to treat those with the Delta variant. The antibodies act as substitute antibodies for people whose immune systems might not produce enough natural fighters. Some of the more known monoclonal antibody brands, however, are not as effective in reducing the impact of the Omicron variant.
Sotrovimab, administered as a single dose by IV infusion, is said to more successful in treating Omicron. It is administered as a single dose by IV infusion. "This treatment should be given within 10 days of symptom onset," according to the Alaska Department of Health and Social Services website. But it's in short supply everywhere, including Alaska.
Paxlovid, the new Covid pill from Pfizer, is being distributed to the states by the federal government, but in extremely limited amounts. In December, Alaska was given just 120 doses of the 65,000 that were made available for shipment.
The U.S. Food and Drug Administration issued an emergency use authorization for Paxlovid (also called nirmatrelvir tablets and ritonavir tablets) for the treatment of mild-to-moderate Covid in adults and children 12 and older who are at high risk for progression to severe Covid-19.
"An initial 65,000 courses of Paxlovid will be made available for shipment to states and territories and will begin arriving at dispensing sites by the end of December," the HHS website says. 
Other treatments for Omicron's typically milder symptoms may be over-the-counter medications that many people take to reduce symptoms from cold or flu.
To check variant data for Alaska, check the Alaska Coronavirus Variants Dashboard at akvariants.github.io.