MEDIA BIAS: THE TALE OF TWO CAMPAIGN ROLL-OUTS
Democrat Alyse Galvin of Anchorage announced Thursday that she will run for the seat now occupied by Congressman Don Young, the longest serving congressman in the United States.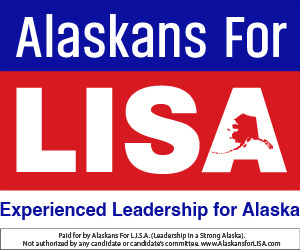 Galvin had already hinted broadly in December that she would do so, and the surprise element was lost weeks ago in her soft social media roll-out.
Yet the Anchorage Daily News gushed her announcement over its pages. KTVA was there for the event, leading off its story with the "Year of the Woman" angle. KTUU did an interview. Alaska Public Media covered it.
It was some of the best earned media that a candidate with zero name recognition could hope for.
But when industry leader Rebecca Logan filed for Anchorage mayor on Sept. 25, the media silence was deafening.
To date, none of the major news organizations has done a story about her candidacy, her platform, or her background as she takes on the well-known Democrat stalwart and mayoral incumbent Ethan Berkowitz. So much for the "Year of the Woman".
The municipal election — now an absentee ballot only — begins in less than 60 days, and with the media focused on "Year of the Woman," only female Democrats need apply.
DAILY NEWS CALLS THE ELECTION FOR BERKOWITZ
A few weeks prior to Rebecca Logan's September announcement, the Anchorage Daily News' lead columnist all but called the April 3 election for Berkowitz.
"Mayor Ethan Berkowitz holds the high ground going into next spring's election. Local government conservatives remain in disarray three years after their rout over a labor law known as AO 37," Charles Wohlforth wrote on Aug. 7.
The columnist's liberal echo chamber led him to conclude that former Mayor Dan Sullivan was the only possible candidate, and that he wasn't likely to run. If he ran, he couldn't win.
It never occurred to Wohlforth that others — Rebecca Logan, Bill Evans, Nick Begich III, and Rep. Lance Pruitt — were evaluating a run.
Must Read Alaska spoke with the possible contenders over the summer and wrote up a summary in September:
[Read: Who is running for Anchorage mayor?]
Wohlforth wrote that crime had been a concern for Anchorage residents, but that was in the past. Of Berkowitz, he wrote:
"His vulnerabilities all have answers. The most important is crime. A year ago, Anchorage was worried about a serial killer. The Anchorage Police Department projected an aura of defensiveness and secrecy under its chief at the time.
This month, the Anchorage Press crowned Berkowitz Anchorage's "Person of the Year."
LOGAN DOESN'T FIT 'YEAR OF WOMAN' HYPE
When Logan launched her campaign, reporters didn't bother to call. Wohlforth's column was the first and the last the coverage on the upcoming race, at least so far.
Logan is the CEO of the Alaska Support Industry Alliance and was the president of Associated Builders and Contractors. She is conservative and pro-business. She's a fierce champion of business.
She comes by that pro-business stance honestly, having been a small-business owner with three restaurants in Anchorage, including The Perfect Cup in the Dimond Center.
Logan is running because crime is out of hand, property taxes are going up, and businesses are closing down. She has a different vision than the current mayor: Lower taxes and pro-jobs.
Logan has also had a number of very successful fundraising events around town. Attendance has been strong.
ALYSE GALVIN: SHE'S WITH THE D'S
In stark contrast to Logan, Alyse Galvin has had gushingly favorable treatment from Alaska's media. She's someone with whom reporters identify.
Galvin is 52, founded a small band of left-leaning education activists called Great Alaska Schools, and she pushes for more spending in schools. No amount of spending is ever enough for Great Alaska Schools — the group continues to move the goal posts for education spending.
Galvin is the champion of the teacher's union, the NEA. Her advocacy group is media-savvy, and often it appears bigger than it actually is because it can rally the entire Left under its flag. After all, who doesn't like children and who doesn't want better school outcomes?
Yet Great Alaska Schools is made up of about 10 people on a good day — 10 friends who know how to work their media allies and get pink-pussy-hatted women to hold signs and yell at lawmakers.
Last legislative session, Great Alaska Schools went quiet, staying off social media and not holding rallies in front of the Capitol. The group is smart enough to know when the public has had enough of advocacy groups asking for money when there simply is none.
Perhaps with time on her hands, Galvin took a class offered by Alaska Democrats for progressive women considering running for office.
Now, with the help of the Alaska Democratic Party, Galvin will run as an unaffiliated candidate — they are calling it Independent, but there is no such designation. It's just as well — there's still not enough state money for Galvin's school group to scrap over; Great Alaska Schools has started to look like they don't get it, when it comes to the state's fiscal problem.
To help Galvin, the Democrats brought back to the state the former campaign manager of Steve Lindbeck, the Democrat who took on Rep. Young in 2016. Galvin will get that campaign manager and other staff who led the Lindbeck campaign to lose quite badly with Young receiving over 50 percent of the vote, Lindbeck 36, and Libertarian and unaffiliated candidates dividing up the rest.
The Daily Kos, a leftwing blog, described the relationship between Galvin and the Democrats this way: "In a bit of an Alaskan twist, she's running as an Independent, but also on the Alaskan Democratic primary ballot (recently upheld in the courts as legal for party to choose to allow this if they so choose), so if she wins the primary (she will) not be running against any Democrat in the general election."
That prediction may be a surprise to the Democrat who has filed as a Democrat, Dimitri Shein, who is learning that his own party is going to actually take sides and back someone against him in the primary — someone who is not even running as a Democrat. Welcome to the party, Dmitri.
Shein is a Russian immigrant with a made-for-movies life story, having witnessed the fall of the Soviet Union and moving to Alaska at age 12. He's an inventor, a business owner, and a father of six.
A FAMILIAR PATTERN
The silence on the municipal race and the gushing coverage of a relatively unknown liberal candidate filing against Don Young is part of a larger pattern.  Last year, Alaska media outlets featured the Gov. Bill Walker-Byron Mallott announcement of a another run on the Independent ticket prominently.
By contrast, the entry to the gubernatorial race of Republican candidates such as Sen. Mike Dunleavy, former Sen. Charlie Huggins, Rep. Mike Chenault and businessman Scott Hawkins have drawn remarkably little coverage, and close to none in the Anchorage Daily News.
LOGAN CAMPAIGN HEADQUARTERS GRAND OPENING
Meanwhile, the mainstream media continues to remain silent on the big election on April 4. Mayoral candidate Rebecca Logan, who as an advocate for business knows well the political leanings of newsrooms in Alaska's biggest city, soldiers on without acknowledgement from the press.
For the Berkowitz campaign, this willful ignorance in the media is golden. The unions supporting the mayor will work behind the scenes for weeks and it's to his advantage that the voter turnout is weighted toward those who are being contacted door-to-door and by phone by off-duty firefighters. The mail-in ballot that Anchorage has adopted helps those with a big army of volunteers, mainly unions working to elect Democrats.
In fact, the longer the press holds off talking about the quality of life in Anchorage under Berkowitz, the better it is for the mayor. By the time the media catches up, many of those ballots may already be in the mail.
Logan is certainly the underdog in the campaign, but she's a fighter, and she has many from the business community on her side.
Logan will have a grand opening at her campaign headquarters from 3-6 pm on Jan. 20, one day after the "official" filing season starts for the municipal races. Logan for Mayor headquarters is at 329 E. 5th Ave, just 10 blocks from City Hall.
Will Anchorage's mainstream media find its way there? Here's a map: