Rep. Bryce Edmgon, who chairs the House Rules Committee, has dug in his heels: He won't move anything out of his Rules Committee that would guarantee the people of Alaska a Permanent Fund dividend through a constitutional amendment the people themselves would vote on.
That means the work done by the bicameral working group in July was all for nothing, because nothing reaches the floor of the House without going through Edgmon's Rules Committee.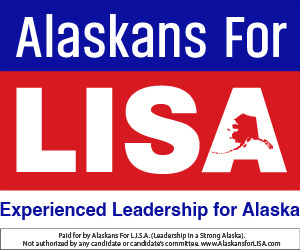 Now, HB 3003, a big appropriation bill that has the Permanent Fund dividend, education funding, and other operating funds in it, is getting the Christmas tree treatment in Juneau — lots and lots of amendments to add more spending and an as-of-yet unknown dividend.
That bill is poised to move Tuesday out of the House Finance Committee, where it was the subject of public testimony that focused greatly on the Permanent Fund dividend.
House Speaker Louise Stutes is said to want the bill on the House floor in Wednesday for its second reading. But word is Stutes has a full-scale mutiny on her hands from both wings. It appears to be setting up for the ultimate showdown.
Meanwhile, in Senate Finance, toward the end of the hearing, Sen. Lyman Hoffman was muzzled by Sen. Bert Stedman. Hoffman was trying to explain that legislators can't ignore the people, and the PFD needs to be a constitutional amendment so the people can vote.
Stedman could not shut Hoffman up fast enough and called the meeting to a close.
Pressure is building in the Legislature on leadership to do whatever they can do to get out of town. The longer they stay, the harder is to keep their caucuses together. The clock is not in either Stedman's or Edgmon's favor.
Public testimony is starting to pivot for a Constitutional Convention, which will be on the ballot next November. This is what Hoffman was referring to his his comments, telling his fellow senators that if the PFD isn't put to a vote of the people, it will end up being part of a Constitutional Convention.
The governor called the Legislature back for its third special session this year because it has not come up with an acceptable Permanent Fund dividend. The House and Senate majorities passed a $525 dividend, which the governor vetoed, calling it an insult to Alaskans.
(This story is dynamic and may have a short shelf life in the sense that the Legislature is in state of instability.)