THERE'S NO POLITICS LIKE FISH POLITICS
By CRAIG MEDRED
CRAIGMEDRED.NEWS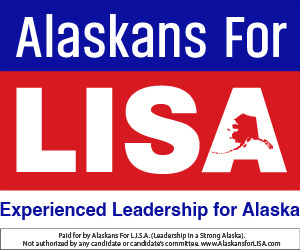 The day after the Alaska Legislature blocked the confirmation of a Board of Fisheries appointee amid allegations he sexually harassed multiple employees of the Alaska Department of Fish and Game, the state agency revealed it has no record of anyone filing even a single allegation.
The revelation does not clear retired Anchorage Superior Court Judge Karl Johnstone, a former Board of Fish chairman, but it does raise troubling questions because of the implications that either:
Alaska Fish and Game supports a culture so toxic that women are afraid to report being sexually harassed, or
A lie was concocted to sabotage Johnstone's reappointment to the Board to provide legislators cover to carry out the wishes of his powerful political enemies in the commercial fishing industry.
Either of these scenarios is a possibility. Sexual harassment in the world of science has become a major issue since #metoo forced a public reckoning.
"When it comes to sexual harassment and sexual assault in science," says the website 500 Women Scientists, "the evidence is clear. Seventy-one percent of women field researchers have received inappropriate sexual remarks and 26 percent reported experiencing sexual assault."
500 Women Scientists was started by four graduate students at Colorado University Boulder who in 2016 wrote an open letter to scientific colleagues querying them about sexual harassment. They hoped, they later wrote, "to get 500 signatures – 500 seemed aspirational. We surpassed that goal within hours of posting the letter, and we continue to reach more and more…."
The organization's home page opens to a photo of an empty ocean. Sexual harassment at sea – whether in the world of science or business – has long been a problem as another Alaska fisherman points out at the website StrengthoftheTides.org.
"…To ignore the dangerous rhetoric and abusive action of sexism within our own communities is to turn a blind eye to the unnecessary suffering many women experience on the commercial fishing grounds or in any maritime industries," says the website. "Today, it is important to hold ourselves and the fleet accountable."
The website was begun by Elma Burnham, a Bellingham, Wash., resident, who fishes Alaska's Bristol Bay in the summer.
The original intent of the site, according to public radio's KDLG, the voice of the Bay, was "to help women working in fisheries find safe places to work."
Fish and Game officials said Friday they believe their agency represents one of those safe places. Stacie Bentley, the agency's human resources director, said women employees are encouraged to report sexual harassment and provided robust protection if they do.