EVERYTHING FROM SEX TO COMPUTER CRIMES ADDRESSED
The Uniform Code of Military Justice was updated and went into effect this week, meant to modernize definitions for many offenses and adjust penalties and court-martial panels.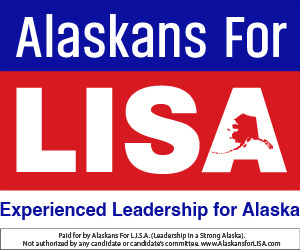 It also brought in a new category of computer crime laws and added definitions concerning behavior that pertains to extra-marital affairs.
The changes attempt to strike a balance between protecting the rights of the accused and empowering commanders to maintain discipline.
The Uniform Code of Military Justice is the foundation of military law in the United States that applies to all who serve in the branches of the military, including the National Guard. This is the most robust set of changes to the Uniform Code of Military Justice since it was enacted in 1950.
Alaska has nine military bases, with Fort Wainwright in Fairbanks and JBER — Elmendorf AFB and Fort Richardson — the largest. Alaska has more than 17,300 active military personnel and 4,593 reserve personnel, to which the UCMJ applies.
ADULTERY INCLUDES SAME-SEX
The offense of adultery is now called "extra-marital sexual conduct." The new offense includes same-sex affairs and broadens the meaning of sexual intercourse.
The changes to law allow for legal separation from one's spouse as a defense. In the past, military service members could be charged with adultery even if they had been legally separated for years but were not divorced.
Also in the past, prosecutors had to prove traditional intercourse to obtain a conviction for adultery. Under the new code, oral sex and other types of sexual intercourse are included.
PROTECTING JUNIOR SOLDIERS
Article 93a of the Uniform Code added stiffer penalties for recruiters, drill sergeants, and others in "positions of special trust" who are convicted of abusing their authority over recruits or trainees.
The maximum sentence was increased from two years to five years of confinement for those in authority engaging in prohibited sexual activities with junior soldiers.
Under the new code, even if the sexual behavior is consensual, it's still a crime.
Article 132 now protects victims and those reporting crimes from retaliation.
An adverse personnel action against someone reporting such a crime can get the person in authority up to three years confinement without pay and a dishonorable discharge.
COMPUTER CRIMES
Article 123 now has penalties for those soldiers who access unauthorized information on government computers. Distributing classified information can earn a maximum sentence of 10 years confinement, but even wrongfully accessing it can get up to five years in jail.
Unauthorized access of personally identifiable information, or PII, is also a crime. Intentionally damaging government computers or installing a virus can also bring five years in the clinker.
Also updated are offenses involving the fraudulent use of credit cards, debit cards, or other access devices to acquire anything of value. The penalty for such crimes has been increased to a max of 15 years confinement if the theft is over $1,000.
If the theft is under $1,000 the maximum penalty was increased from five to 10 years confinement. This penalty also applies to those misusing a government travel card.
Cyberstalking is also now included as a stalking offense under Article 130.
COURTS-MARTIAL
A "bench trial" by a judge alone can now determine guilt or innocence for many offenses. Almost any charge can be referred to such a forum, except for rape and sexual assault, which requires referral to a general court-martial. However, if the offense has a sentence of more than two years, the accused has a right to object to such charges being referred to a bench trial and could request a special or general court-martial.
If found guilty at a bench trial, a soldier cannot be given a punitive discharge and the max sentence would be limited to no more than six months forfeiture of pay and no more than six months confinement. The judge can still adjudge a reduction in rank.
More than half of the cases in the Army are settled by plea agreements other than by trial.
Special courts-martial will now be set at four panel members. A court-martial convening authority can also authorize alternate members to be on a special or a general court-martial, she said.
Capital offenses such as murder require a 12-member panel.
For a non-capital court-martial, three-fourths of the panel members must agree with the prosecution to convict the accused. For instance, if only five members of an eight-member panel vote guilty, then the accused is acquitted. A conviction for a capital offense still requires a unanimous verdict.
OTHER CHANGES
More changes to punitive offenses include the definition of burglary, which now includes breaking and entering any building or structure of another, anytime, with the intent to commit any offense covered by the Uniform Code. In the past, burglary was limited to breaking and entering the dwelling house of another in the nighttime.
The penalty for wearing unauthorized medals of valor has increased from six months to a max of one-year confinement along with forfeiture of pay and a bad-conduct discharge. This includes wearing an unauthorized Medal of Honor, Distinguished Service Cross, Silver Star, Purple Heart or valor device. The maximum penalty for wearing any other unauthorized medal is still only six months.
The changes to the punitive articles are not retroactive to crimes committed before Jan. 1, 2019, but some procedural efficiencies will apply retroactively.
A team of military legal experts has travelled to 48 installations in 2018 to train 6,000 legal personnel and law-enforcement agents about the changes. Classes included everyone from judges to law clerks, and privates to generals.