Former Murkowski aide Steve Wackowski has rejoined the official staff of Alaska's senior senator as the state director. He replaces Leila Kimbrell, who served as Murkowski's State Director since 2017, is now the executive director at the Resource Development Council.
During the Trump Administration, he worked for the Department of Interior as the Alaska senior advisor, and the person who the news blog Politico called determined to deliver Trump's Alaska oil promise.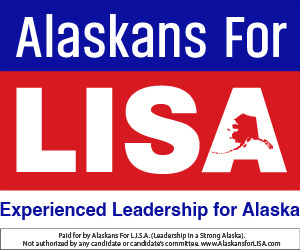 Read: The man determined to deliver Trump's Alaskan oil promise
"I'm excited to welcome Steve back to my team. His work experience—not only in Alaska but also around Congress at large—expertise in the resource development industry, and his passion for our state make him a great fit for this position. Steve is a guy that just gets how Alaska works," Murkowski said in a statement. "Throughout the many years I've known Steve, he has proven to be a leader of integrity and character, and extremely hard-working. I'm confident he will continue to serve Alaska well in his new position."
Wackowski is a lifelong Alaskan who grew up in Anchorage and spent summers in Ninilchik working at his family's campground and fishing business. He signed up for ROTC two days before Sept. 11, 2001.
Read: Tales from the battlefield
After graduating college, he received a commission in the Air Force Reserve and served on the staff of Senator Ted Stevens in Washington, DC. he left DC to move home to Alaska with his wife, Lindsay, to start their family. He has broad career experience spanning the private sector, military, and federal service, including working on Murkowski's 2010 and 2016 campaigns.
A combat veteran, Wackowski served in contingency operations throughout the world including in Afghanistan, Iraq, and Haiti. He also conducted award-winning research in graduate school on unmanned aerial systems in the Arctic while serving on Active Duty in 2011. More recently, he served at the Department of the Interior as the Senior Advisor for Alaskan Affairs and as the Chief of Staff for Alaska Aerospace Corporation.
Wackowski is a lieutenant colonel in the Air Force Reserve currently serving on an Active Duty tour at the 611th Air Operations Center at JBER. He will assume full-time duties in Sen. Murkowski's office starting in late February.