NEW FISH TASK FORCES WILL REPORT TO THE GOVERNOR DIRECTLY
Gov. Bill Walker has pulled his secret Cook Inlet fish task force meetings out into the sunshine.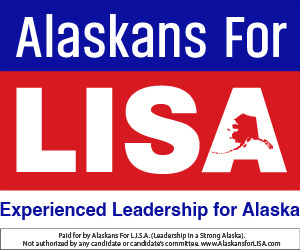 On Monday, he signed an administrative order establishing something called the Governor's Fisheries Advisory Task Force. Or more correctly – task forces.
The purpose? To be determined.
Although there is no "problem statement" in Administrative Order 295, there also aren't specific deliverables outlined by the governor.
But there is an overarching purpose: The new task forces may not undermine the role or authority of the Board of Fisheries, which is a constitutionally established governing body, albeit one that is highly controversial because it divvies up a limited and highly coveted resource.
[Read: The exact wording of Administrative Order 295]
Other than that, it's a rangy order with plenty of leeway.
The task forces are a derivative of the Cook Inlet-oriented meetings the governor has convened with a paid facilitator over the last few weeks. That group has been meeting in Anchorage, without any official status or public notice. It's an invitation-only arrangement. The group meets again this Thursday in a to-be-determined location. Invited stakeholders are showing up at these meetings at great expense because the fishing season has begun around Cook Inlet, and they can't be with the fish and be in Anchorage to defend their interests at the same time.
These task forces will be made up of "varied interests, working in innovative and cooperative ways over a finite period of time, will provide observations and recommendations to the Governor on specific assigned fishery issues, which can also serve to assist the Board of Fisheries in the execution of their responsibilities."
The task forces, according to the order, will get administrative support from the Department of Fish and Game and will work on tasks given by the governor himself.
And the task forces may offer him advice. Walker's administrative order says there may be any number of these task forces active at a time, whenever and wherever the governor decides one is needed.
"Task forces will be activated via letter or memorandum from the Governor to the Director of Boards and Commissions and the Commissioner of the Department of Fish and Game, which will include the following:
statement of objective(s);
the composition and size of the task force;
the time period to accomplish objective(s); and
specific deliverables (as required).
Task force seats will not be specifically assigned but will represent commercial, sport, personal use, subsistence, enforcement, science, and conservation interests. There is no seat designated for fishing guides, outfitters, or fishing businesses that rely on tourism.
Nongovernmental members will be paid per diem and travel expenses for meetings, but the governor directed that meetings should be held telephonically or by video conference to the extent practical.
Alaska already has 84 local advisory committees that inform the board of fisheries process. Advisory committees, according to the State Department of Fish and Game, are intended to provide a local forum on fish and wildlife issues, and "are critical policy bodies to the boards."
More than 700 Alaskans already serve on these boards, which also provide ground-truth input to the Alaska Board of Game.
The governor has not focused on fisheries during his three-and-a-half year tenure, and in his 6,200-word, 22-page State of the State address in January only mentioned it once, saying "We have world-class fisheries and are promoting new opportunities such as kelp and shellfish production. We will continue to prioritize healthy salmon habitats that benefit all users."
But with an election on the horizon and several fisheries in crisis in Alaska, task forces may be seen as an election strategy that costs little, but repairs some of the damage that has occurred since Walker's first fateful fisheries move: Appointing Roland Maw to replace Karl Johnstone, a respected retired judge, on the Board of Fisheries.
[Read: Fisheries board nominee indicted for the third time]
Maw is still in court defending his right to take years and years of Permanent Fund dividends in the largest Permanent Fund dividend fraud case in Alaska history.