The political leaders of Alaska turned out en masse to remember former House Speaker Gail Phillips, who died in March.
Among those who attended were former Gov. Sean Parnell and former First Lady Sandy Parnell, U.S. Sen. Lisa Murkowski and Congressman Don Young. Lt. Gov. Kevin Meyer, Senate President Peter Micciche, and Anchorage Mayor-elect Dave Bronson and his wife Deb.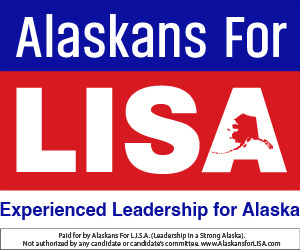 Alaska Republican Party National Committeewoman Cynthia Henry attended, and former Rep. Larry Baker was spotted, as was senatorial candidate Kelly Tshibaka. State Sen. Natasha Von Imhof and former State Sen. Ben Stevens were in the crowd, as was Nick and Dharna Begich.
Hobo Jim sang a ballad in Phillips' memory outside of Kincaid Chalet under partly cloudy skies.
An open house continued after the memorial service until early evening. The family accepted donations to the newly created Gail Phillips leadership fund, a scholarship at University of Alaska Fairbanks. More about her life can be found at https://gailphillipsalaska.com.
Read: Passing Gail Phillips, former Alaska House Speaker
Born on May 15, 1944, to Lois and Wallace McIver in Juneau, Phillips was the oldest of seven girls and grew up in Council and Nome, Alaska. She spent her early summers in Council at the mining camp owned by her father and grandfather.
Phillips worked for Senate President Tim Kelly before she was sworn into the 25th Alaska State Legislature in January 1991. In 1993, Rep. Phillips became House Majority Leader before being elected Speaker of the House in 1995, a position she held for four years. She served on many boards and councils throughout her life, many with the University of Alaska, Alaska Aviation Museum and resource development causes. Phillips was an active member of the Homer United Methodist Church, and served on its Board.
Speaker Phillips won many awards and recognitions throughout her life. She is survived by her husband of 56 years, Walt; daughter, Robin Phillips; daughter, Kim Griffith; grandsons, Scott and Jace Griffith; her sisters, Barbie, Kay, Janny, Cheryl, Susan and Karen and their families; and many more grandnieces, grandnephews, cousins and friends.