THE QUEST FOR THE $100 BILLION PERMANENT FUND
By ART CHANCE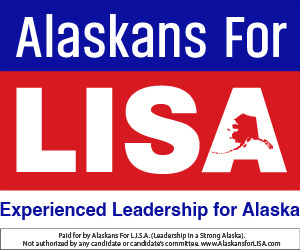 I can't remember the last time I was up bright and early for a 7 am meeting, but there I was at the Alliance/Resource Development Council breakfast, listening to Senate President Cathy Giessel deliver a presentation on the upcoming legislative session that can best be described as the "same ole.'"
The room was full of movers and shakers, wannabes, politicians, and media. The crowd was polite, but no more, for Giessel, who is the political equivalent and has all the bedside manners of Nurse Ratched.
On the way out I asked a friend, "If she were a Democrat, what would she have said differently?" We agreed that had she been a Democrat she'd have probably railed a bit about increasing oil taxes but otherwise any Democrat would have made pretty much the same pitch.
Speaker Bryce Edgmon was supposed to attend with Giessel, as the two are inseparable these days. But he was a no-show, having begged off for illness. He didn't need to be there anyway; Giessel did a good imitation of a Democrat.

She couldn't tell us enough about the wonderful collaboration she has with Speaker Edgmon. 
Senator Giessel didn't give any details but hinted at proposed cooperative agreements with the village or regional corporations for "local control" of education in the rural areas.
For those who know anything about the Indian Self-determination Act, this looks a lot like the scheme in which the federal government gives federal money to tribes and other tribal/Native entities and the entity runs the programs.
Of course, that is precisely what the Regional Education Attendance Areas are supposed to do. Giessel tried to justify it by saying the locals would run it at least as well as the State.
But the State doesn't "run" rural education; it sets some standards that it barely enforces and sends the money to the local district/REAA, which is exactly the way federal agencies manage Indian Self-determination Act grants and contracts.
My money-laundry detector is going off on this one; if they want to have even less control than the State already has, then they are aiming for no control at all.

Then there was talk of revenue and taxes, taxes, taxes and in this portion we got a cameo from Giessel's sidekick, Sen. Finance Chair Natasha von Imhof. They were a tag team on the latest revenue fad — the magic $100 billion Permanent Fund.
Giessel says if we stop with that nasty Permanent Fund dividend, we can get the Fund to $100 billion in 14 years, while von Imhof says 18 years. I know people who think we could get most of the way to $100 billion in the corpus with a stoke of the governor's pen ordering an honest accounting of the money currently in the State's hands, and sweeping all of the appropriated but unexpended funds, sub-funds of the General Fund, and all the various other funds listed only in the small and obscure print in the Comprehensive Annual Financial Report, if listed at all.
I've been saying for years that the State was stuffing money in coffee cans and mattresses. When the Department of Revenue, the Division of Finance, and the Office of Management and Budget gives the Legislature and the plebes that "General Fund Revenue Available for Appropriation" figure, they're telling you what they want you to know. In fact, there is a whole lot of money laying around out there in various hidey holes and slush funds.
$100 billion in the corpus is purported to be the level at which we can support recurring spending on Permanent Fund earnings alone, at least in good years, with no regard for revenue from other sources.
They whispered a few sweet nothings about that requiring spending limits, but you knew they really didn't mean real limits.

I'm usually critical of binary propositions; few things are as simple as Door A or Door B, but this is truly a binary proposition: The Republican president of the Senate either thinks we are too ignorant to deal with State finances so she can't tell us the truth, or legislators are themselves too ignorant and self-absorbed to understand State finances.
I worked for the Legislature awhile and dealt with them I lot; I well knew that if you couldn't reduce it to three bullet points and give them a plausible deniability strategy if anything went wrong, you weren't getting anywhere with the Legislature.

I didn't hear a thing in the presentation that hasn't been around for the 45 years I've been in Alaska. Back in the Gov. Jay Hammond era, the whole idea was to turn oil revenue into the revenue created by the oil revenue. We've been talking about who should run rural education since the Seventies. We've been talking about whether or not to have an income tax since the first barrel of oil flowed. We've been talking about general or special "temporary" sales taxes for just as long.
The people who "run" this State are like the elites in DC: They're famous for being famous and powerful because they are powerful. And they are clueless.
If you did not catch the presentation, word is Giessel and Edgmon was the program for the Democrats' Bartlett Club meeting at noon at the Anchorage Senior Center.
Art Chance is a retired Director of Labor Relations for the State of Alaska, formerly of Juneau and now living in Anchorage. He is the author of the book, "Red on Blue, Establishing a Republican Governance," available at Amazon.