RECOUNT LIKELY FOR DISTRICT 1 HOUSE SEAT
The cliffhanger election in District 1 Fairbanks continues today, as absentees were counted.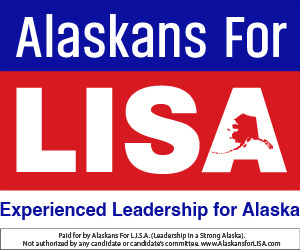 What's being decided today is the seat that Rep. Scott Kawasaki is vacating as he heads into the Senate. Kawasaki picked up more votes today to increase his lead on Sen. Pete Kelly.
Also, Republican Bart Lebon got 131 absentee votes and Kathryn Dodge got 116, meaning that LeBon seesawed ahead of Dodge by what appears to be 5 votes. More absentees from overseas could come in, and this race will likely head to a recount.
The race tightened on Tuesday when early votes and questioned ballots were counted, and Dodge had pulled ahead of LeBon by 10 votes.
Overseas ballots are due in no later than Nov. 21. There are 17 of those, and no recount can be done until they are accounted for.
Meanwhile, the Senate Seat A race has been all-but-decided for Scott Kawasaki, who was celebrating at the Fairbanks Division of Elections office and on the phone with supporters.
Kawasaki picked up 77 votes in the House District 2 area of Senate Seat A, and Kelly picked up 90, but in the HD 1 area, it went for Kawasaki over Kelly, 137-114.
In the House District 2 race, Rep. Steve Thompson already had a significant lead and picked up even more today, 103-63 over Democrat Van Lawrence.
This story will be updated.